Nadjma Yassari Named Professor by the University of Hamburg
On 30 November 2021, Nadjma Yassari, who leads the research group "Changes in God's Law – An Inner Islamic Comparison of Family and Succession Laws" at the Max Planck Institute for Comparative and International Private Law, was granted the title of professor by the University of Hamburg.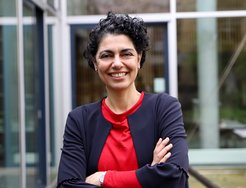 Professor Dr. Nadjma Yassari, LL.M. (London) studied law at the University of Vienna, Paris Descartes University, and the University of Innsbruck. After earning a master's degree at the School of Oriental and African Studies University of London in 1998, she completed her doctoral studies at the University of Innsbruck with a comparative legal study of the freedom of contract in Muslim and Western legal cultures. She joined the institute in 2000 as head of the department for the laws of Muslim jurisdictions. Since 2009 she has been leading the research group on Islamic family and succession laws.
She habilitated through the University of Hamburg in 2016 with a comparative study on spousal family property rights and received her venia legendi (authorization to lecture) on the subjects of comparative law, private international law, and Islamic law. Her being named a professor reflects recognition by the University of Hamburg of her outstanding accomplishments as a legal scholar.