Decolonial Comparative Law
In 2019, Ralf Michaels (MPI Director) and Lena Salaymeh (École Pratique des Hautes Études – Paris Sciences et Lettres) established a long-term collaborative research project on decolonial comparative law (DeCoLa). Lena Salaymeh codirected the program until 2023.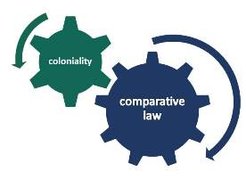 Decolonial comparative law identifies how the matrix of modernity/coloniality structures the prevailing understanding of law and offers decolonial alternatives – with coloniality meaning not merely colonialism, but rather the totalizing and universalizing mode of thought that underlies modernity.
Conventional comparative law rests on epistemic assumptions that emerge from the modernity/coloniality matrix. This has multiple implications for a number of core assumptions or practices in comparative law: using the nation-state as a category of analysis, privileging secular law over religious law, viewing modern law as superior to precolonial and anticolonial legal traditions. Decoloniality seeks to overcome the centre-periphery structure – a key aspect of the modernity/coloniality matrix – through the concept of pluriversality, this meaning the legitimacy of multiple traditions and social orderings.
Rather than organizing comparative law around the objective of unifying or "modernizing" law, we advocate using comparative law to decolonize legal thinking and to create conditions for legal pluriversality. A decolonial analysis reveals the coloniality within conventional comparative law and thereby helps move beyond it.

Call for Papers
Decolonial comparative property law
4-6 November 2024 in Brasília (Brazil)
Paper submission deadline: 14 January 2024
Following workshops dedicated to methodology (Witwatersrand 2020) and precolonial law
(Oxford 2022), the third Decolonial Comparative Law (DeCoLa) Workshop, to be held in Brasília, will focus on
decolonial approaches to comparative property law. Property is of central concern for decolonial
comparative law. Many of the assumptions of Global North property law—such as John Locke's labour
theory of property—emerged in colonial contexts. In addition, neo-colonialism (in the form, for example,
of waste colonialism) continues to affect both private and public property in the Global South. Moreover,
coloniality propagates a notion of property as representing individual spaces of freedom; this notion excludes
alternative, non-Northern concepts such as communal ownership, stewardship, or the personhood of
rivers and mountains.


Bibliography
Here you will find a regularly updated bibliography on decolonial legal studies and decolonial theory: Bibliography

Publications
Publications by members of the program

Events
Information on planned and past events can be found here.
Further information on the project