Decolonial Comparative Law
Ralf Michaels (MPI Director) and Lena Salaymeh (British Academy Global Professor, University of Oxford) have established a long-term collaborative research project on decolonial comparative law.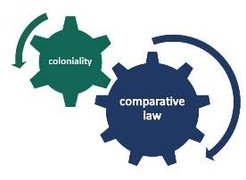 Decolonial comparative law both identifies how the matrix of modernity/coloniality structures prevalent understandings of law and offers decolonial alternatives. (Coloniality means not merely colonialism, but rather a totalizing and universalizing mode of thought that underlies modernity.)
Conventional comparative law rests on epistemic assumptions that emerge from the modernity/coloniality matrix and this has implications for a number of core presumptions or practices in comparative law: using the nation-state as a category of analysis, privileging secular law over religious law, viewing modern law as superior to precolonial and anticolonial legal traditions. Decoloniality seeks to overcome the center-periphery structure, a key aspect of the modernity/coloniality matrix, through the concept of pluriversality, meaning the legitimacy of multiple traditions and social orderings.
Rather than organizing comparative law around the objective of unifying or "modernizing" law, we advocate using comparative law to decolonize legal thinking and to create conditions for legal pluriversality. A decolonial analysis reveals the coloniality within conventional comparative law and thereby helps move beyond it.

Publications
Decolonial Comparative Law: A Conceptual Beginning
Rabels Zeitschrift für ausländisches und internationales Privatrecht 86 (2022), 166–188.
Das rechtliche Erbe der Kolonialzeit
Max Planck Forschung 4 (2021), 16-21.
Comparing Islamic and International Laws of War: Orthodoxy, Heresy, and Secularization in the Category of Civilians
American Journal of Comparative Law 69, no. 1 (2021): 136-67.
Decolonial translation: destabilizing coloniality in secular translations of Islamic law
Journal of Islamic Ethics 5 (2021): 250-77.
Traduction décoloniale: contre la colonialité dans la conversion séculière du droit islamique en 'charia'
Clio@Themis, 20:1 (2021)

Decolonial comparative legal history: indigenous and global South law prior to colonialism
9-10 September 2022, Oxford, United Kingdom

The British Academy Global Professorship, the Oxford School of Global and Area Studies, and the Max Planck Institute for Comparative and International Private Law are sponsoring this hybrid workshop, with the institutional participation of the Institute of European and Comparative Law (University of Oxford).

Program
9 September 2022
Time
Speaker / Topic

9:00-9:30

Ralf Michaels, Decolonial comparative law (introductory session)

9:45-10:45

Ethelia Ruiz Medrano, Territory, Yya (lords) and Commoners in Colonial Mixteca Alta: Politics and Religious Meanings
Discussant: Lena Salaymeh
11:15-12:15
Sandrine Brachotte, Studying Pre-colonial Indigenous Ontologies to Decolonize Law: A Contradiction in Terms? The Example of Indigenous Peoples in Canada
Discussant: Mark Walters
13:45-14:45
Edward Erhagbe and Idahosa Osagie Ojo, Historicising the Legal Preferences for the Oldest in Pre-Colonial African States and Societies
Discussant: Alfred Ngando
15:00-16:00
Judith Onwubiko, The Nature of Igbo Indigenous Law
Discussant: Kentaro Matsubara

10 September 2022
Time
Speaker / Topic
9:00-9:30
Lena Salaymeh, Decolonial comparative legal history (introductory session)
9:45-10:45
Kentaro Matsubara, Property Regimes, Religious Power, and State Formation: Modern Transformation of the East Asian Region
Discussant: Farhat Hasan
11:15-12:15
Damian Gonzales Escudero, Capacocha, praxis y saber: Los saberes normativos en un ritual inca en el valle del río Chillón prehispánico (ca. 1500-1520s)
Discussant: Ethelia Ruiz Medrano
13:45-14:45
Uapukun Mestokosho and Yenny Vega Cardenas, Recognizing the Legal Personality of the Magpie River/Mutehekau Shipu in Canada
Discussant: Claire Charters
15:00-16:00
Andrés Nunes Chaib, Amerindian Perspectivism and Multinaturalism as Models for Rereading the Development of Indigenous Normative Contexts
Discussant: Ralf Michaels
16:00-16:30
Concluding remarks
Program (PDF)
Papers will not be formally presented; instead, papers will be pre-circulated to (and should be read by) all participants and engaged listeners. During the hour dedicated to each paper, the discussant will present a summary and critical engagement for 15 minutes; the remainder of the hour will be dedicated to questions and discussion. Workshop papers will be distributed to participants, discussants, and engaged listeners in late August 2022.
To register as an engaged listener, please email Aparna Agarwal (aparna.agarwal2[@]sant.ox.ac.uk) by 15 August 2022. The subject line of your email should indicate if you are registering as an in-person or virtual engaged listener; the email should include your full name (first and last), email address, and institutional affiliation. Virtual engaged listeners will only be admitted to the Zoom workshop if their name matches the name provided during registration. Please do not register as an engaged listener unless you intend to read all the papers and to attend every session. Space is very limited!




Virtual workshop 6-7 October 2020
The Max Planck Institute for Comparative and International Private Law (Hamburg) and the University of the Witwatersrand School of Law organized a virtual workshop on decolonial comparative law on 6-7 October 2020 (see schedule below).
Program (PDF)
Co-organizers: Tshepo Madlingozi & Emile Zitzke (University of Witwatersrand) and Ralf Michaels & Lena Salaymeh (Max Planck Institute for Comparative and Private International Law)