Decolonial Comparative Law
Ralf Michaels (MPI Director) and Lena Salaymeh (British Academy Global Professor, University of Oxford) have established a long-term collaborative research project on decolonial comparative law.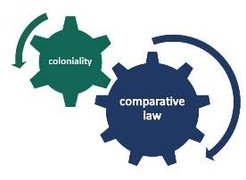 Decolonial comparative law both identifies how the matrix of modernity/coloniality structures prevalent understandings of law and offers decolonial alternatives. (Coloniality means not merely colonialism, but rather a totalizing and universalizing mode of thought that underlies modernity.)
Conventional comparative law rests on epistemic assumptions that emerge from the modernity/coloniality matrix and this has implications for a number of core presumptions or practices in comparative law: using the nation-state as a category of analysis, privileging secular law over religious law, viewing modern law as superior to precolonial and anticolonial legal traditions. Decoloniality seeks to overcome the center-periphery structure, a key aspect of the modernity/coloniality matrix, through the concept of pluriversality, meaning the legitimacy of multiple traditions and social orderings.
Rather than organizing comparative law around the objective of unifying or "modernizing" law, we advocate using comparative law to decolonize legal thinking and to create conditions for legal pluriversality. A decolonial analysis reveals the coloniality within conventional comparative law and thereby helps move beyond it.

Upcoming events

Decolonial Comparative Law Summer School
4-8 July 2023, Hamburg DE
The Decolonial Comparative Law (DeCoLaw) summer school brings together comparative law and decoloniality with a rigorous attention to methods. Further information on the summer school and on how to apply is available here.
The institute will propose needs-based scholarships for physical attendance to a limited selection of participants, especially from Southern nationals or residents.

DeCoLa Workshop 3 : Decolonial Comparative Property Law in Fall 2024 in Brazil
Please subscribe to our mailing list to receive information on how to submit a paper for consideration in the Decolonial Comparative Property Law Workshop. We will invite papers that consider property law from a decolonial and comparative perspective.

Past events

Decolonial comparative legal history: indigenous and global South law prior to colonialism
9-10 September 2022, Oxford, United Kingdom
The British Academy Global Professorship, the Oxford School of Global and Area Studies, and the Max Planck Institute for Comparative and International Private Law were sponsoring this hybrid workshop, with the institutional participation of the Institute of European and Comparative Law (University of Oxford).

Decolonial Comparative Law
6-7 October 2020, Virtual workshop

The Max Planck Institute for Comparative and International Private Law (Hamburg) and the University of the Witwatersrand School of Law organized a virtual workshop on decolonial comparative law on 6-7 October 2020 (see schedule below).
Co-organizers: Tshepo Madlingozi & Emile Zitzke (University of Witwatersrand) and Ralf Michaels & Lena Salaymeh (Max Planck Institute for Comparative and Private International Law)


Publications


Decolonial Comparative Law: A Conceptual Beginning
Rabels Zeitschrift für ausländisches und internationales Privatrecht 86 (2022), 166–188.
Das rechtliche Erbe der Kolonialzeit
Max Planck Forschung 4 (2021), 16-21.
Comparing Islamic and International Laws of War: Orthodoxy, Heresy, and Secularization in the Category of Civilians
American Journal of Comparative Law 69, no. 1 (2021): 136-67.
Decolonial translation: destabilizing coloniality in secular translations of Islamic law
Journal of Islamic Ethics 5 (2021): 250-77.
Traduction décoloniale: contre la colonialité dans la conversion séculière du droit islamique en 'charia'
Clio@Themis, 20:1 (2021)