Dörthe Engelcke elected to the Arab-German Young Academy
In November of 2022, Dörthe Engelcke, senior research fellow at the Max Planck Institute for Comparative and International Private Law, was admitted to the Arab-German Young Academy of Sciences and Humanities (AGYA). She was one of eleven early-career scholars selected for membership last year.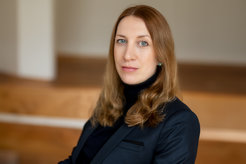 Founded in 2013, the Arab-German Young Academy of Sciences and Humanities (AGYA) is the world's first bilateral young academy. It brings together outstanding scholars from Germany and the Arab world to collaborate on innovate projects. It is based at the Berlin-Brandenburg Academy of Sciences and Humanities (BBAW) and at the Academy of Scientific Research and Technology (ASRT) in Egypt. The currently more than sixty members of the academy hail from Germany as well as from twenty-two countries of the Arab world. The membership is united in an interdisciplinary approach to scholarship.
Dr Dörthe Engelcke majored in Islamic studies at the University of Hamburg and at the Institut National des Langues et des Civilisations Orientales (INALCO) in Paris. She completed her MA in Near and Middle Eastern studies at the School of Oriental and African Studies (SOAS) in London and received her PhD in Oriental studies from St Antony's College, University of Oxford. She has held fellowships at the Islamic Legal Studies Program at Harvard Law School and at the Lichtenberg-Kolleg, The Göttingen Institute of Advanced Study.
https://agya.info/agya-life/members/doerthe-engelcke
---

© Max Planck Institute for Comparative and International Private Law / Johanna Detering