Julius Weitzdörfer appointed professor at the University of Hagen
Julius Weitzdörfer, former Research Assistant at the Centre of Expertise on Japan at the Max Planck Institute for Comparative and International Private Law, has accepted a post at the FernUniversität in Hagen (University of Hagen). His appointment as Junior Professor took effect on 1 September 2020; officially in the field of East Asian law with an emphasis on Japanese law.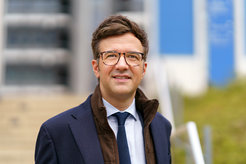 Prof. Dr. Julius Weitzdörfer studied Japanese studies and journalism in Leipzig and Tōkiō as well as law in Hamburg and Shanghai. From 2009 to 2013 he was a research assistant under Prof. Dr. Baum at the Institute, who also supervised his doctoral dissertation on the regulation of consumer credit in Japan ("Verbraucherkreditregulierung in Japan"). Based on 15 years of research into organised financial crime in Japan, it analyses the reform of Japanese credit law and was published with Mohr Siebeck in 2020. [further information]
In 2013, Julius Weitzdörfer moved on to the Faculty of Law, University of Cambridge, where he was a research fellow and later Affiliated Lecturer and Director of Studies in Law at Darwin College. After holding scholarships in Kyoto and Frankfurt, and the receipt of his doctoral degree from the University of Hamburg, in 2019 he accepted a Junior Faculty Fellowship with the Harvard Kennedy School of Government.
The Max Planck Institute for Private Law warmly congratulates Julius Weitzdörfer on his new position at the University of Hagen.