Change of leadership at the Centre of Expertise on Japan
On 31 May 2020, Prof. Dr. Harald Baum is retiring from the Institute and, effective 1 June, will be passing on leadership of the Centre of Expertise on Japan to Ruth Effinowicz, Institute research fellow.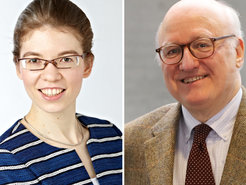 With her academic background in both law and Japanese studies, Ruth Effinowicz is uniquely qualified to successfully guide the Institute's continuing research on Japan-related themes. The Centre was established by Harald Baum in 1985 and has grown under his 35 years of leadership into one of the most important European contact points for questions on Japanese civil law, commercial law and business law.
A particular milestone for the Institute's study of Japanese law was Baum's founding, in 1996, of the "Zeitschrift für Japanisches Recht/Journal of Japanese Law", for which he has had managerial responsibility ever since. Primary responsibility for editorial work will continue to rest with the Centre of Expertise, but organisational responsibility for the Journal is now being assumed by Effinowicz.
Baum will continue to support the publication of the Journal as a member of the five-person editorial board. Additionally, he will maintain his ties with the institutional partner co-responsible for publication of the Journal, the German-Japanese Association of Jurists (DJJV), of which Baum is the long-time vice-president.