In conversation with Gökçe Kurtulan Güner, Konrad Zweigert Scholar 2018
Gökçe Kurtulan Güner graduated from Galatasaray University, Istanbul in 2014. She continued her graduate studies as a Jean Monnet Scholar at the London School of Economics, where she completed the LLM programme in 2015. Currently she is a PhD candidate at Istanbul Bilgi University, where she has been working as a research and teaching assistant in the Civil Law and Law of Obligations Department since 2015. In 2018 she was awarded the Konrad Zweigert Scholarship by the Alumni Association of the Max Planck Institute for Comparative and International Private Law. She is currently working on her PhD thesis titled "Trust as a Potential Legal Instrument for Turkish Law" at the Institute as a DAAD and TUBITAK (Scientific and Technological Research Council of Turkey) scholar.
In the following interview, Gökçe Kurtulan Güner discusses her research and her stay at the Institute.
What was your research focus during your time as a Konrad Zweigert Scholar?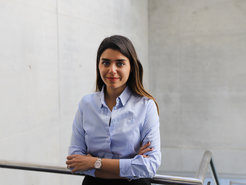 The main questions I was looking for answers to were whether the common law trust really increases efficiency in a legal system and whether this efficiency can also be guaranteed through the promotion of already existing institutions such as the fiduciary contract and the foundation. My main focus here is on the functioning and the advantages of the trust instrument, along with its special features which cannot, at least de lege lata, be provided for by the other legal concepts I mentioned.
Why did you choose the Max Planck Institute for Comparative and International Private Law for your research?
Over the last thirty years, the common law trust has gained increasing popularity not only in common law systems and offshore countries, but also in civil law systems. An analytical and critical inquiry into the latest developments around the world is an essential part of my project. The main reason I chose the Institute as a place to work on my doctoral research is its extensive library, especially its collection on comparative research in the field of private law. Access to this vast resource of hard copy and online databases was the deciding factor for my choice, but not the only one. Another important element was the weekly and monthly academic gatherings held by the Institute. Finally, I must say that the friendly and peaceful work environment that is offered here was another key motivation.
How did you like working at the Institute?
As a guest researcher, I have appreciated and tried to make the most of all the opportunities that the Institute offers. For my comparative research project where I'm looking at different legal systems – mainly English, French, German and Swiss laws – the accessibility of almost each and every source I required has been of tremendous help. Moreover, since I first arrived here, I have had the chance to participate in many "Aktuelle Stunde" conferences on topics related to my research. This has helped me see certain things from a different angle and enabled me to address new questions that had not been on my mind initially.
Did you get a chance to meet and exchange ideas with other guest researchers?
The work environment at the Institute has given me the chance to share and exchange ideas while developing great friendships. Since all the guest researchers here work on topics related to comparative private law, there is almost always common ground for exchange regardless of our different legal backgrounds.
Is there a spot at the Institute that you are particularly fond of?
At the risk of sounding like a workaholic, I'd say my favourite spot is my desk where I can think, read and write in peace and quiet.