A conversation with Dr María González Marimón, Lindemann Foundation scholar
Dr María González Marimón is an assistant professor of private international law at the University of Valencia. After graduating from a double degree program in law and political science at the University of Valencia with special distinction in both degrees, she went on to earn her doctorate there cum laude. She is the author of various publications in the field of private international family law and has been awarded several international scholarships for her research.  
What is your research focus during your time as a Lindemann scholar?
The subject of my research is the study of the best interest of the child in transnational cases linked to international family relocation in the European Union. My research approaches these issues from a human rights perspective as well as from the point of view of the protection of vulnerable groups in private international law.
What made you choose the Institute for your research?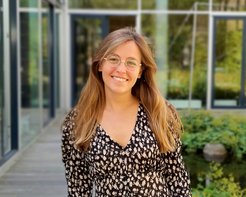 The Institute is internationally well known for the breadth of its library and resources for studying private international law. But above all, I wanted to seize the opportunity to meet researchers from all over the world who work in my area of expertise. What makes the Institute unique from my point of view is not only that you have access to all these resources, it is also the many opportunities it offers to exchange ideas and discover mutual interests among colleagues.
In fact, all my colleagues from the University of Valencia as well as from other universities had been encouraging me to visit the Institute since I started my doctoral studies. I had successfully applied for a dissertation grant at the Institute in 2020, but due to COVID-19 I had to postpone until 2022. I am very happy to have finally had the opportunity to research here, and I already intend to come back if I can.
How would you describe the Institute to someone who has never been here?
The Institute is a unique place to conduct research. Firstly, you have access to endless resources, both online and in the library, with the kindest assistance from the staff. Secondly, the reading room offers such a calm atmosphere in which to work in a concentrated way. Thirdly, the various research groups at the Institute are constantly organizing events you may participate in. And finally, you have the opportunity to meet guest researchers from all over the world with whom you can discuss research topics. Of course you can also make new friends and go sightseeing together around Hamburg, which as a city has a lot to offer.


---

Image: © Max Planck Institute for Comparative and International Private Law / Johanna Detering