A conversation with Jaya Vasudevan Suseela, Humboldt Research Fellow
Dr. Vasudevan is a Professor at the Hidayatullah National Law University, India. Her teaching as well as research have been in the field of international trade law, including dispute resolution laws and conflict management in business with special focus on commercial and investment arbitration law. Currently, she focuses on studying newer forms of interdisciplinary cooperation in international business law, unfolding the contemporary challenges to sustainability in global trade. Her recent research includes indirect tax law and comparative perspectives on international commercial arbitration law in different jurisdictions across Europe and Asia.
What was your research topic during your stay in Hamburg?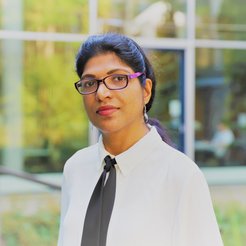 During my three months' research stay as a visiting Humboldt Fellow in 2022, I worked on a project comparing the limits of the principle of party autonomy as well as post pandemic challenges and opportunities in international arbitration law focusing on the aspirations of a 'new normal' world. The broader premise of my research is based on the implications arising from the unification of international commercial arbitration law in contrast against the changing dimensions of national arbitration law and how the international arbitration community interacts when global humanity faces various technological and public health crises.
What made you choose our library for your research?
The library has an elegant aura of a high-quality, humane space which motivates and inspires both collaborative and independent research work. Its wide variety of information resources in the various areas of international private law makes it unique in the academic world. The rich collection of Kluwer Arbitration e-books and similar resources on international arbitration research which contain different commentaries from expert authors deserve special mention here.
How would you describe the Institute to someone who has never been here?
The library staff always provided me with the assistance that I required for my research. I am very grateful for their high efficiency and attention to detail, which have helped me immensely and I would recommend the Institute as a major research hub for any researchers working in the areas of comparative and private international law.