The Institute hosts Časlav Pejović
The internationally renowned legal scholar and law professor Časlav Pejović is visiting the Institute this fall of 2023. Pejović is emeritus professor at Kyushu University in Japan. His multiple fields of study are not all he has in common with the Institute. His personal connections here also go back many years.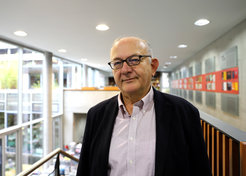 Before his appointment to the faculty of Kyushu University in 1997, Pejović was associate professor at the University of Montenegro. He received master's degrees in law from the University of Belgrade and the University of Kyoto and did his doctoral work at the University of Zagreb. He has delivered guest lectures at numerous universities, including Oxford, Heidelberg, Toronto, Georgetown, Beijing, Seoul and the National University of Singapore. He is the author of numerous published works in multiple languages, including Japanese. Beside maritime law and international commercial law, he also teaches, researches, and publishes in the areas of labour and employment law, corporate governance, and comparative law. For several years now, he has been studying the impact of an ageing populace on the Japanese labour market. "When I look at the Japanese labour market, I'm focusing on three aspects", the versatile scholar says. "The employment of skilled seniors, labour-driven migration, and the participation of women in the workforce."
Pejović has been a visiting researcher at the Institute several times already and has actively contributed to the Institute's scholarly pursuits. He has given talks as part of the "Current Developments in Japanese Law" and "Hamburg Lectures on Maritime Affairs" lecture series and has also authored several articles for the Journal of Japanese Law (J.Japan.L.). "The Max Planck Institute in Hamburg is one of the best places I know for research, and I have gotten to know many academic facilities. Right now I'm working on several projects at the same time, and I find the environment here is perfect for this."
One of his current focuses is the regulation of electronic shipping documents. "This has been a very exciting topic, especially since the UK Electronic Trade Documents Act became law in September of 2023", Pejović says. He's currently writing an article about it for an American international law journal as well as a book chapter for a volume to be published by Routledge in 2024. He is also gathering materials for a chapter for a new edition of Transnational Commercial Law, to be published by Oxford University Press in 2024. His major project right now, however, is a textbook on maritime law, which is also scheduled for publication by Informa Law in 2024.
Asked how he would describe the Institute to someone who has never been here before, he says: "Imagine a place where you can totally focus on your research and have everything you need to do it. The Institute has a fantastic library with access to lots of databases. But the whole atmosphere of the building and its staff, who are cordial and professionally accomplished, is inspirational and is really what enables guests at the Institute to dedicate themselves fully and completely to their research. Interesting events with speakers from many different countries take place here. And last but not least, the Institute is a place where you can meet researchers from all over the world and make new friends. I've said as much to many of my colleagues and students, and more than a few have already visited on their own and come here to advance their research at this wonderful location in the middle of one of the most beautiful parts of Hamburg."
---

Image: © Max Planck Institute for Comparative and International Private Law / Johanna Detering