Publications
Through a variety of publications, the Centre of Expertise is able to make a valuable contribution to the understanding and appreciation of Chinese law in Germany.
German Journal of Chinese Law (ZChinR)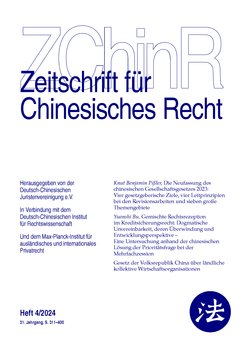 The quarterly appearing ZChinR provides in-depth analysis, translations of current Chinese legislation, conference reports and reviews of books on Chinese law. The journal is published by the German-Chinese Jurists' Association (DCJV) in cooperation with the Sino-German Institute for Legal Studies and the Max Planck Institute for Comparative and International Private Law under the editorial guidance of the vice-director of the Sino-German Institute. The editors of the journal are assisted by an academic advisory committee whose membership includes Knut Benjamin Pißler, head of the Center of Expertise on China and Korea.
Schriften zum chinesischen Recht
Since 2008, Knut Benjamin Pißler has served as an editor of the de Gruyter publication Schriften zum Chinesischen Recht, working together with the former president of the German-Chinese Jurists' Association, Professor Dr. Uwe Blaurock (Freiburg), as well as board members Professor Dr. Ulrich Manthe (Passau) and Professor Dr. Christiane Wendehorst (Vienna).
Publications thus far include:
Volume 1
Jakob Riemenschneider: Das Darlehensrecht der Volksrepublik China
January 2008. 240 pages.
Volume 2
Christoph Schröder: Der multimodale Frachtvertrag nach chinesischem Recht
November 2008. 242 pages.
Volume 3
Raimund Christian Behnes: Der Trust im chinesischen Recht
August 2009. 186 pages.
Volume 4
Simon Werthwein: Das Persönlichkeitsrecht im Privatrecht der VR China
October 2009. 188 pages.
Volume 5
Yiliang Dong/Hongyan Liu/Knut B. Pissler: The 2011 Regulation on the Causes of Civil Action of the Supreme People's Court of the People's Republic of China - A New Approach to Systemise and Compile the Status Quo of the Chinese Civil Law System
January 2012. 128 pages.
Volume 6
Jörg Binding: Das Gesetz der VR China über die deliktische Haftung
August 2012. 160 pages.
Volume 7
Patrick Alois Hübner: Rechtsschutz ausländischer Investoren vor chinesischen Gerichten
2014. 390 pages.