Research in a place of freedom and safety
Private Law Gazette 1/2023 – The danger and uncertainty that result from persecution, war or catastrophe often make it difficult or even impossible to pursue scholarly work. It is of great importance to the Institute that private law scholars facing situations of crisis be given an opportunity to continue their research. In the past, the Institute has set up scholarship programmes for scholars who were drastically affected by the war in Ukraine or by the devastating earthquakes in Turkey and Syria. The Institute also cooperates with the Institute of International Education in connection with their Scholar Rescue Fund (IIE-SRF). At present the Institute is home to several researchers whose countries of origin pose particular dangers. Three of them describe their current situation.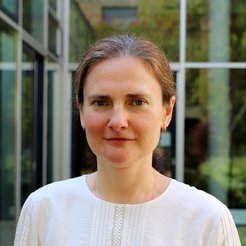 Prof. Dr. Iryna Dikovska is professor of civil law at the Taras Shevchenko National University in Kiev. She was a visiting researcher at the Institute on multiple previous occasions and was the first fellow in our program for researchers impacted by the war. She is, additionally, a member of the Ukraine Supreme Court's academic advisory council and is currently preparing an expert opinion for a case before the Court. She has continued her teaching activities online while here in Hamburg, and through her lectures, seminars and office hours she stays in close contact with her students. Her current research is considering the ways in which the war and the resulting consequences – such as compelled migration or sanctions – are affecting private law relationships. She is also working on a private international law textbook for Ukrainian students.
"In the Institute's library I can find everything that I need. I can, for instance, compare the contract law principles of Ukraine with those of Germany and Switzerland and on the basis of the experiences of different countries formulate proposals that tackle questions arising in Ukrainian law," says the scholar. "In terms of my publications on private international law, whether for academia or in connection with teaching, I can comparatively incorporate EU law. This is, of course, particularly important with a view to Ukraine's future membership in the EU."
A big plus for Iryna Dikovska has been her exposure to the country's native language: "My longer stay in Hamburg has given me the opportunity to learn German." Moreover, she is very pleased with the way in which many people here support Ukraine, an effort in which she also participates: "There are organizations here that provide different kinds of help. Everyone can get involved – whether financially or in the form of personal engagement. For example, you can weave camouflage nets for the military or make candles that are needed in the trenches."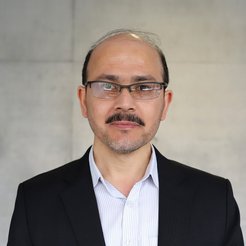 Dr. Mohammad Taqi Maghrebi has since 2023 been a research fellow in the Research Group "Changes in God's Law". After completing his doctorate at Tehran University, he was a professor at Gharjistan University in Kabul and Head of Legal Affairs in the Office of the Second Vice-President of Afghanistan. Additionally, before coming to the Institute as a visiting scholar in 2021 he worked in Kabul as a consultant for the Deutsche Gesellschaft für Internationale Zusammenarbeit (GIZ). In the context of a current research group project, he is now working on Afghan family law with a focus on marriage law.
"In Hamburg, I enjoy certainty and benefit from the fact that I have access to sources particularly valuable for my research. The Institute offers the best conditions a scholar could wish for in his work," says Maghrebi. "After all the political and social structures in Afghanistan collapsed and all the earlier achievements and hopes for the future were destroyed, my family was torn apart and an uncertain future lay ahead of me. At first I was in shock, and for some time found it difficult to concentrate on academic topics. Now I am discovering new research topics, and in learning German I am creating a window to the culture and knowledge of this region of the world."
Many of Maghrebi's friends and colleagues have similarly left Afghanistan, yet some still reside in the country. He follows events there closely and is in contact with both groups of individuals. "Almost all government employees who don't belong to the Taliban ethnicity and religion have been dismissed from their posts. Most judges and prosecutors have been removed from office and have had their place taken by graduates of religious schools who don't have any legal training," explains Maghrebi. "Women are almost completely excluded from education and employment. Individual freedom of action is on the whole very limited." Some members of his family could be brought to Hamburg. "One person, however, has thus far been unable to overcome German administrative hurdles."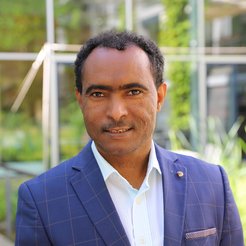 Dr. Gebreyesus Abegaz Yimer, LL.M. (Rotterdam), was an associate professor at Mekelle University, Ethiopia, and has been a research fellow at the Institute since January 2023. In his home country he taught customary law, traditional dispute resolution, legal history and private law. He also served as the chair of the Research and Community Services Office at the College of Law and Governance at Mekelle University and coordinated various projects directed to building new research capacity. He is an IIE Scholar Rescue Fund Fellow. His research focus at the Institute is financial regulation in Africa. He is studying Rotating Saving and Credit Associations (ROSCAs), microfinance institutions, savings and credit cooperatives and sustainable finance. He is also exploring legal theory in Africa.
"My stay in Hamburg has allowed me to intensify my research and expand the scope of my academic work, for example by engaging in comparative analysis. The Institute has an excellent collection of materials that enables me to benefit from the latest developments in research," says the scholar. Before coming to the Institute, Yimer studied at Erasmus University Rotterdam and completed his doctorate at the Catholic University of Leuven. He actively participates in the Institute's workshops and conferences, most recently with a presentation on "The Plurality of Norms in Ethiopia: Courts in Defence of Pluralism".
"The environment at the Institute is very warm and welcoming. However, my stay in Hamburg is not free of challenges. I have not yet managed to find a flat for myself and my family. Consequently, my wife and children have not yet been able to follow me here from Belgium. For my country and for Africa, I wish for peace and freedom."


---


Images:
© Max Planck Institute for Comparative and International Private Law / Johanna Detering