Emojis in (private) law
Matthias Pendl, senior research fellow at the Max Planck Institute for Comparative and International Private Law, studies the legal dimensions of emojis. The findings of his comparative legal research have now been published in a recent book and essay.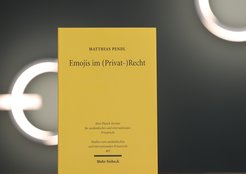 Emojis have become indispensable to today's digital communication. In written exchanges, they stand in for the intonation, gestures, facial expressions, and other nonverbal elements of in person conversations. When lawyers find themselves confronted with these digital pictograms, it is usually because they need to assess the legal ramifications of an utterance.
Pendl draws on empirical findings from (psycho)linguistics to explain how the uses and associated comprehension of emojis can vary depending for example on the age, gender, and cultural backgrounds of their users. To legal scholars and practitioners alike, emojis pose the fundamental challenge of how best to interpret statements made with the help of one or several of them.
Pendl collects observations from various areas of the law and compares decisions handed down by courts in the United States, Canada, Great Britain, Australia, Germany, Austria, and Israel to show the legal relevance of the topic. This leads into an analysis of the implications of emojis for private law, identifying the difficulties they create for traditional doctrines that guide interpretation of declarations of intent and other kinds of expressions. Pendl also identifies legal areas, such as labour law, trademarks, and capital markets, in which the use of emojis is likely to figure into judicial determinations in the future.
Dr. Matthias Pendl studied law at Karl Franzens University of Graz, where he completed his doctoral studies and held a position as an academic research assistent. His dissertation, on a corporate law topic, received multiple awards. He was a research associate at the Institute from 2014 to 2017 and returned in 2018 as a senior research fellow. Since then he has also been a lecturer at Bucerius Law School as well as at University of Hamburg.

The book appears both in print and as an open access online publication.


---
, Emojis auf dem Weg ins (Privat-)Recht – ein Schlaglicht, Neue Juristische Wochenschrift 2022, 1054–1058.
, Emojis im (Privat-)Recht (Studien zum ausländischen und internationalen Privatrecht, 483), Mohr Siebeck, Tübingen 2022, XV + 124 pp.
---

Image: © Max Planck Institute for Comparative and International Private Law / Petra Tavonius