Seda Palanduz, Konrad Zweigert Scholar 2021, in conversation
Seda Palanduz obtained her bachelor's and master's degrees in law at Galatasaray University Istanbul and took an LL.M. from Yale Law School in 2016. Currently she is a research assistant at the commercial law department of the faculty of law at MEF University in Istanbul and a doctoral candidate at Galatasaray University. For her dissertation, she is exploring questions around equity in joint stock companies.
What is your research at the Max Planck Institute for Comparative and International Private law about?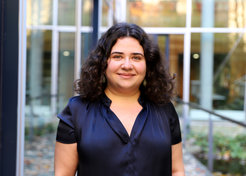 I am conducting research for my PhD dissertation, which I am writing on the topic "Equity in Joint Stock Companies". Equity and different components thereof have a significant role in investor and creditor protection and serve as a standard in determining how much dividend can be distributed, when and how capital may be increased, and what kinds of measures companies in financial distress should take at which point. The interrelatedness of the issues revolving around equity demonstrates the need for a comprehensive analysis of the concept. In this vein, my main research objective is to develop a framework for such analysis. Carefully examining components of equity and their sources and addressing each of the auxiliary issues of dividend distribution, capital increase, and loss of capital, I try to answer two main questions: Is it possible to provide sufficient creditor and minority protection all the while giving the company enough flexibility to operate in a way that is best tailored to its specific conditions? And, if possible, how?
What prompted you to do research at this institute?
A comparative approach is crucial for both doctrinal and policy-related aspects of my dissertation. I therefore need access to a wide variety of materials on Turkish, Swiss, German, and EU Law as well as sources on corporate finance. The Institute is definitely in a league of its own in the breadth of its spectrum. Secondly, the opportunity to engage with researchers from different jurisdictions, especially those interested in the methodology of comparative law, was also a factor. It always broadens my horizons to exchange ideas and brainstorm with fellow researchers.
How would you describe the institute to someone who has never been here?
One is first charmed by the comprehensive library with sources spanning across many decades, languages, and jurisdictions. The Institute is like a shrine to private law. Only after a couple of days, however, you realize that one of its most valuable assets is a strong sense of camaraderie. Doing research, especially while writing a PhD dissertation, can be a very lonely and stressful endeavor. Being surrounded by people who are going through or have already gone through similar experiences is very helpful. So, I would describe the Institute as an ideal research setting.