Aygun Mammadzada, Konrad Zweigert Scholar 2019, in conversation
Aygun Mammadzada is a PhD researcher at the Institute of Maritime Law at Southampton Law School at the University of Southampton. Having graduated with distinction from Baku State University in 2013, she worked at several law firms before obtaining a Master's degree in international business law from the University of Southampton in 2015.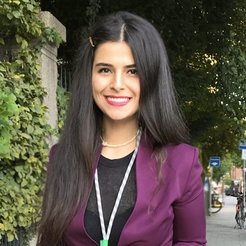 After working as a lawyer at the Ministry of Education of Azerbaijan she was awarded a scholarship by Southampton Law School in 2017 in order to pursue her PhD project titled "Provision of Party Autonomy by The Hague Convention on Choice of Court Agreements 2005: Comparative analysis between the international and European approaches". Besides her PhD research she is currently Managing Editor of the Cambridge University Press journal Global Constitutionalism.
What was your research focus during your time as a Konrad Zweigert Scholar?
My PhD research critically analyses the effectiveness of the provision of party autonomy by The Hague Convention 2005 on Choice of Court Agreements. Based upon an investigation of existing shortcomings, I want to suggest possible ways to influence the potential success of this universal instrument. While there are a variety of studies on the Hague Convention and an extensive amount of literature has been written on party autonomy, none of this provides a comprehensive critical analysis of the treaty or carves out the associated principles on which the international and European approaches are based. My aim is to come up with solutions offering more effectiveness in respect of party autonomy and judicial certainty, especially regarding the significance of the Convention post-Brexit.
Why did you choose the Max Planck Institute for Comparative and International Private Law for your research?
The foundational research and immense academic output achieved by the Institute are highly renowned within the global world of private international law. The specific aspect of my research is the cross-border element, as I analyse private international law issues that go beyond national frontiers. Throughout my research I have been following the work done by academics of the Institute. I therefore wanted to join its diverse community of visiting researchers and also obtain access to the extensive collections of the library. I knew that this would be a great place to connect and share my ideas with highly respected private international law specialists and scholars.
How did you like life in Hamburg, working at the Institute?
There is nothing that compares to studying international law issues while being in a truly international atmosphere, enjoying life in a cosmopolitan and multicultural city. At the Institute, apart from its vast academic resources, the working spaces are equipped with excellent modern facilities. The staff are very friendly and always happy to listen and help. And the Institute brings together expertise and people from all over the world, which has enabled me to build new connections and make friends. Hamburg's rich cultural and historical heritage, contrasted with its modern architecture and music venues, has really struck me. What I love most is that it is hardly possible to escape the waterways of the canals and the harbour. I completely understand why Hamburg was recently rated as the second happiest German state in the Deutsche Post's national "Happiness Atlas". I indeed hope that my career and life paths will bring me back here some time.
Is there a spot at the Institute that you are particularly fond of?
Ask me if there is any spot at the Institute that I am not fond of! If I have to pick a special one, it would be the library, which is undoubtably the most stunning labyrinth I have ever seen or walked through. Each time I get lost there before once again finding my bearings between the wheels of the shelves, I also find myself.