The Characterization of Provisions Protecting Forced Heirs Against Lifetime Dispositions
Raphael de Barros Fritz is a former research associate at the Institute. His dissertation addresses the perennial and difficult conflict of laws question of how to characterize rules that are intended to protect forced heirs from being disadvantaged when decedents have made lifetime dispositions of property. De Barros Fritz studied the topic from a comparative perspective through a side-by-side examination of the laws of Germany and the United States state of Louisiana.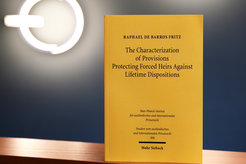 With not only commercial activity but also personal lives increasingly interwoven across national boundaries, there are rising numbers of cases of estates and succession that are tied to more than one jurisdiction. And many countries are at the same time seeing increasing numbers of lifetime dispositions of property even as the numbers of testamentary dispositions have been stagnant. Ask someone which jurisdiction's law should apply in resolving a transnational succession, and the answer will depend on which norm of private international law the relevant substantive law rule is deemed to fall under. The establishment of this association between substantive and private international law rules is known as "characterization". The characterization of rules that limit a person's freedom to dispose of property during their lifetimes in order to protect forced heirs has always been controversial. For his comparative study, de Barros Fritz examines the laws of Germany and the United States state of Louisiana, which he selected because they are a particularly useful pair of legal orders for analysis of a series of legal instruments that protect forced heirs from being disadvantaged by such lifetime dispositions.
Dr Raphael de Barros Fritz, LLM (Tulane), SJD (Tulane), Attorney at Law (New York), studied law at the University of Passau. After completing the First State Examination in Germany, he earned a master's degree in law from Tulane and went on to pursue a doctorate in law there as well. He received his doctorate from the University of Passau in 2023. He is admitted to practice law in the state of New York.


---

Image: © Max Planck Institute for Comparative and International Private Law / Ana Karolina Wolf