Simon Horn receives dual honours for his doctoral dissertation
What is the material and personal scope of contracts in private international law and international civil procedure? Simon Horn, research associate at the Max Planck Institute for Comparative and International Private Law, analyses this question in his now published doctoral dissertation. Examining recent CJEU jurisprudence, he observes a fundamental shift that sees EU PIL's autonomous conception of contract moving away from the criterium of a voluntary entered obligation.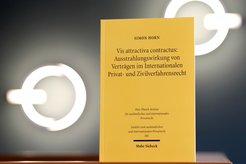 Based on the hypothesized existence of a vis attractiva contractus, Horn examines how contracts, by virtue of their spillover effect, have projected themselves into non-contractual spheres, particularly as regards PIL, international civil procedure and special provisions in consumer contracts and individual employment contracts. He explains how the vis attractiva contractus contradicts basic principles of international civil procedure and PIL in terms of both their material and personal scopes. He concludes by arguing for a return to the functional-relative (funktional-relativ) understanding of contract. Towards this end, he proposes concrete measures, keeping in mind especially the protective aim of employment law and consumer law.
On 9 March 2023, Horn's dissertation received the Doctoral Dissertation Award of the Friedrich-Alexander-Universität Erlangen-Nürnberg's Faculty of Law. His dissertation was also honoured with the 2023 Rödl Doctoral Dissertation Award, bestowed annually by the law firm Rödl & Partner for the best dissertation in business law.
Dr. Simon Horn, Maître en droit (Rennes), studied German-French law at the Friedrich-Alexander-Universität Erlangen-Nürnberg and at the Université de Rennes 1. Subsequently, he was an academic assistant at the Friedrich-Alexander-Universität's Chair for Economic Private Law and Chair for Civil Law, Private International Law and Comparative Law as well as at the Erlangen Centre for Islam and Law in Europe. He has been employed at the Institute since 2021 and was awarded his doctoral degree from Friedrich-Alexander-Universität in 2022.



, Vis attractiva contractus: Ausstrahlungswirkung von Verträgen im Internationalen Privat- und Zivilverfahrensrecht (Studien zum ausländischen und internationalen Privatrecht, 501), Friedrich-Alexander-Universität Erlangen-Nürnberg 2022, Mohr Siebeck, Tübingen 2023, PhD Thesis, XXVI + 204 pp.
---

Image: © Max Planck Institute for Comparative and International Private Law