Law as a discipline transcending national borders
A conversation with Verónica Ruiz Abou-Nigm
Private Law Gazette 1/2022 - Even in her early days as a law student, Verónica Ruiz-Abou-Nigm had been struck by the idea of law as an international discipline. She first put this into practice as a young lawyer for maritime law in Uruguay. Shortly thereafter, she embarked on an academic career that eventually led her to the University of Edinburgh, where she has now taught private international law for many years. As a researcher, she has been a guest at the Institute on numerous occasions. In 2021/22, she returned to Hamburg as a visiting fellow. What are her current topics of interest?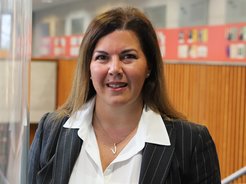 Building bridges, not only between legal systems but also between different disciplines, is a motive that has long influenced and driven Verónica Ruiz Abou-Nigm. Her academic work focuses on the intersections of private international law and other legal fields, such as maritime law, international arbitration, and public international law. Her approach is to use the legal, cultural, and methodological diversity that is evident in international contexts to achieve better solutions in cross-border matters.
"I promote a new paradigm for private international law with my research. By adopting an intercultural approach, the horizons of the discipline can be broadened, and its methods can help usher in legally based social change," explains the legal scholar in words reflecting her commitment to a change in awareness. "Private international law is a core element of transnational regulation and can therefore make an important contribution to tackling the greatest challenges of our time. In my work, I trace the connections between local, national, regional, and global spheres. I promote a new and integrative exchange, one that incorporates both private and public law perspectives."
Together with Institute Director Ralf Michaels, she has launched the project "Private International Law for Laypeople" (PILL). "We want to systematically address the thinking behind PIL and make it accessible to the general public. Even lawyers often view private international law as overly technical and complex. However, in today's globalized and multicultural world, it is important that representatives of all legal fields learn how to think and reason between and across legal systems."
Another area of work that links her closely to the Institute is the project "The Private Side of Transforming our World - UN Sustainable Development Goals 2030 and the Role of Private International Law," which she initiated together with Ralf Michaels and the former Secretary General of The Hague Conference, Hans van Loon, and which set important milestones at the end of 2021 with a publication and a global conference. "We have had an exceptionally positive response to our efforts and have in recent months been invited by institutions around the globe to present the project."
Verónica Ruiz Abou-Nigm also considers global migration governance from a private international law perspective – a topic on which she has already done considerable research and published widely – as falling under the rubric of sustainable development. "Global migration movements cannot be managed by individual states acting alone. Private international law has a significant role to play. That's why it's so important that we develop the field in a direction that integrates not only legal but also cultural diversity."
As a university lecturer and enthusiastic advocate of research-led teaching, Verónica Ruiz Abou-Nigm wants to encourage law students to acquire legal knowledge and skills beyond national borders, skills that will also enable them to navigate between different legal systems and legal cultures. For her part, it stands as certain that she will chart her way to Hamburg as visiting researcher again in the future. "The quality of academic exchange that takes place at the Institute is not easy to replicate elsewhere. It's no coincidence that the research agenda of many scholars has crystallized during their time here. The special magic of the setting also reflects in a long-lasting sense of belonging shared by many individuals that have conducted research at the Institute."

Dr Verónica Ruiz Abou-Nigm is Senior Lecturer in International Private Law at the University of Edinburgh, where she was awarded an LL.M in 2003 and in 2008 authored her PhD dissertation relating to the arrest of ships. She earned her Juris Doctor as well as her Masters degree in law at the Catholic University of Uruguay. She is a member of the Asociación Americana de Derecho Internacional Privado (ASADIP) and served as vice-president from 2019 to 2022. She is also vice-president of the European Law Faculties Association (ELFA) and a member of the International Academy of Comparative Law. From October 2021 to March 2022 she was a visiting fellow at the Institute.
---

Photo: © Max Planck Institute for Comparative and International Private Law / Johanna Detering