Obituary for Director emeritus Ulrich Drobnig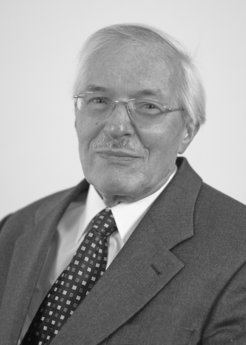 Ulrich Drobnig passed away on 2 March 2022 at the age of 93. His death completed the life cycle of a scholar who set standards in comparative law and private international law, and who built a global network of academic contacts for "his" institute, the Max Planck Institute for Comparative and International Private Law. He had a reserved, unpretentious, and matter-of-fact way about him; it set him apart, and it merited the outstanding international reputation he enjoyed. Though he could have trumped, given his position and reputation, it would never have occurred to him. His characteristic was modesty.
He was born in Lüneburg, the son of a Prussian high official. His father was soon transferred to Silesia, where Ulrich spent his childhood and teenage years before he and his family had to flee westward amid the turmoil at the end of the war. In 1948 he started studying law in Tübingen, then the capital of Württemberg-Hohenzollern, the smallest of the three states that merged into today's Baden-Württemberg. The Max Planck Institute, now based in Hamburg, had also moved to Tübingen, in 1944, from Berlin westward, in search of refuge from the advancing Red Army. The Institute was still known at the time as the Kaiser Wilhelm Institute for Comparative and International Private Law. There was close contact between the Institute and the University of Tübingen. Institute director Hans Dölle also held a teaching chair at the university, and his eventual successor, Konrad Zweigert, was a professor there as well. This is where Ulrich Drobnig was exposed to comparative law.
In Tübingen, Drobnig also established contacts to the United States, through founding former director Ernst Rabel, who had fled there in exile. After an initial semester abroad at New York University Law School, Drobnig transferred to the University of Michigan at Ann Arbor, where he helped Rabel compile a new edition of the comparative handbook of private international law, The Conflict of Laws, which he completed himself after Rabel's death. Around the same time as he sat for his second state exam and was earning a master's degree in comparative jurisprudence from New York University – and after the Max Planck Institute moved to Hamburg – he completed a doctoral program at the University of Hamburg with a comparative law thesis on the enforcement of corporate liability. He then returned to the United States to study at Cornell University, where he worked in the same circles as Rudolf Schlesinger and acquired the comparative legal research method the latter championed, which sought to identify the "common core" of legal systems. Yet another sojourn in the United States, in 1963, led him to Max Rheinstein, at the University of Chicago, who also had roots at the Kaiser Wilhelm Institute for Comparative and International Private Law and who shared with Schlesinger and Rabel the fate of the Jewish émigré.
Ulrich Drobnig was thereby consummately immersed in the methods, aims, functions, and challenges of comparative law and was ready to tackle a great task that would become central to the rest of his life as a researcher. He became, in 1964, the executive secretary of the International Encyclopedia of Comparative Law, which Zweigert had founded. A short time later, the Max Planck Society fended off offers of appointments to professorships at the universities of Göttingen and Mainz and named him a scientific member in 1967. The University of Hamburg followed, appointing him professor in 1975, until he took on the role of director at the Max Planck Institute in 1979.
The International Encyclopedia of Comparative Law, of which Drobnig became the responsible co-editor in 1985 and which he edited alone following Zweigert's death, was based on an assessment
"that the traditional one-man-treatises on comparative law, though often admirable masterpieces, are limited by the author's perspective to primarily an individual view of selected geographical areas or subject matters. Although such selections are indispensable for teaching and introductory purposes, they do not satisfy the current demand for a compendium containing a comparison of all legal systems on an international scale and covering broad segments of the law."[1]
A gigantic project, it had to overcome many organizational and financial difficulties. Because it was impossible to ascribe a priori a leading role to any one of the few great legal traditions – common law, French and German law, socialist law, Islamic law – the project needed an analytical approach that broke with the traditional concentration on those few. It was, after all, meant to document contemporary solutions to a wide range of legal problems worldwide, not least as a source of inspiration for legislation worldwide. On the other hand, the enormous proliferation of states and legal systems ruled out any attempt to comprehensively inventory national rules. The encyclopaedia opted for the novel approach of concentrating on "typical solutions".[2] Each author assigned to write an individual chapter for nearly all its seventeen volumes was asked to identify and address a representative handful of solutions to a problem from among the diverse national regulations to be covered. This required the development of conceptual categories that would allow the researchers to overcome the more minute, national-level distinctions.
This method of showcasing representative rules was hard to implement across a project of this magnitude. First, it had to be conveyed to the individual volume editors, who then had to impress it upon a multitude of chapter authors. This was no easy feat. Even harder was convincing authors who had just submitted their manuscripts that although their work contained a lot of useful information, it did not comport with the assigned methodology or would require extensive, time-consuming editorial attention. For decades, Ulrich Drobnig dedicated himself to this task with patience and discipline beyond compare. That he remained on task even at an advanced age testifies to the profound sense of duty he felt toward the generational project of the Encyclopedia. Although he never fully achieved this opus, many volumes were near completion. When Drobnig's vitality waned, Brill, the Dutch publisher, acquired the rights from Mohr Siebeck and digitized the published texts, making them available worldwide. The Encyclopedia today presents itself as a distinct blend of dated details together with structural analyses and monographic treatments whose value will stand the test of time.
Editing the Encyclopedia was a mammoth task that often distorts the picture of Ulrich Drobnig the author. Yet his bibliography commands lasting recognition.[3] Drobnig's methods are distinguished by how he looked at law, which was not primarily as a complex of rules and principles arranged into coherent doctrine and resting undisturbed in the most vaulted legal studies. For him, it was always about the law's relationship with the increasingly frontier-crossing realities of modern life. Some of his writings on the sociology of law are not the only testament to this. It was also a concrete part of his approach to any order of inquiry. His attitude toward nationality in private international law serving as a connecting factor in the law of personal status is a case in point. Although he had once written a detailed rebuttal to the sweeping criticism that the nationality principle was incompatible with Europe's prohibition against nationality-based discrimination,[4] Drobnig came out in favour of expanding the residency principle during the Institute's consultations in advance of the German PIL reform of 1986.[5]
Drobnig was far-sighted, in that he focused on certain topics against the backdrop of the great socioeconomic problems and tendencies of his day; when he embarked on an academic career path in the 1950s, they included a politically and ideologically divided Germany and Europe, the drive to integrate Western economies, and a political economy that called for continual growth and the supply of capital it would require. Eventually, migrations of millions of people made it imperative that questions be resolved in all areas of the law.
The division of Germany into states with contrary worldviews posed a fundamental challenge to all post-war-era jurists. While most Western lawyers simply disqualified the East German regime as an Unrechtsstaat, a lawless state, many of Drobnig's publications strove to understand what was distinctive about legal institutions like contracts, property, and marriage in the socialist order. At a time in West Germany when the name of the East German state was always supplied with quotation marks – the "DDR" – and any talk of Germany's condition was ideologically highly fraught, he offered lectures on the law of the German Democratic Republic at the University of Hamburg, where he soberly and objectively analysed the law's relationship to socialism. By the time the German-German Basic Treaty was ratified in 1973, he had produced an edition of the Sammlung der deutschen Entscheidungen zum interzonalen Privatrecht (Collection of German decisions on private interzonal law), which remains an unparalleled documentation of the legal problems that arose from the collision of legal systems and worldviews. Later, as a scientific member of the Max Planck Society, he helped forge ties to central and eastern Europe by organizing conferences and inviting guests from those countries to the Institute in Hamburg. Multiple events were held (for example) with the Hungarian Academy of Sciences.
The goal of economic integration had been a key part of western Europe's political program since the 1950s and had gradually gained importance outside of Europe with the GATT and the OECD. In keeping with the old motto of rapprochement through trade, businesses were called upon to promote integration. Ever since Rabel's studies on the sale of goods, it had been commonplace at the Max Planck Institute that businesses were important in helping civil law to keep pace. Drobnig was actively engaged in this process in various areas: the formation and validity of contracts of sale, the recognition of companies, secured transactions in movables, and, finally, working out the Principles of European Contract Law and the UNIDROIT Principles of International Commercial Contracts. His experience in the United States served him well in these areas.
The development of international production and sales chains drives an immense appetite for capital. Satisfying this appetite in an economy marked by increasing international integration requires security rights robust enough to lower the cost of capital. During the 1960s, secured transactions law gradually became a central focus for private law scholars in general, especially for comparatists. Some of Drobnig's publications contributed to a shift whereby the former analysis, rooted in property law doctrine, saw itself complemented and at times supplanted by the economic-functional analysis of secured transactions. He had written several papers on comparative law and conflicts of laws that were to be the groundwork for his habilitation monograph. Though he never finished the monograph, his work on secured transactions in movables made its way into a report occasioned by the Fifty-first Forum of the Association of German Jurists[6] as well as into a comprehensive comparative legal study for UNCITRAL. Researchers still refer to it today.[7] He would continue to concentrate on secured transactions for many years to come. The collapse of the eastern European socialist systems created an enormous thirst for capital and a corresponding need for secured lending, and he was able to provide welcome advice toward the creation of a model law for registered liens at the European Bank for Reconstruction and Development.[8] In his efforts to bring about a Europeanization of civil law, he was actively working to create a European law on secured transactions in movables till just a few years ago.[9]
In spite of itself, western Germany since the 1960s has attracted an ever-increasing number of immigrants. Their entry into the fabric of society had long been the preserve of civil society and private initiatives. Much is required to integrate into a foreign country. Some of that is legal advice for those who, with their languages and cultures, and because of their dual relationship to the legal systems of a home and a host country, encounter problems in the space in between. In Germany, many bilateral lawyers' organizations have grown up around this kind of specialization. Here, at the periphery of his scholarship, Drobnig was also active. In 1986, as a platform for discussion of Turkish law in Germany and German law in Turkey, he founded the German-Turkish Lawyers' Association in Hamburg with Tuğrul Ansay (1930 – 2022), a former dean of the University of Ankara's law faculty. Ansay was general secretary; Drobnig soon became chair. The organization's conferences were a forum for research into practical legal issues surrounding family and succession, contracts, real estate, conflicts of laws, immigration, public benefits, and labour and employment as faced by Germany's largest immigrant population, people with Turkish backgrounds.
The Bundespräsident awarded Drobnig a Federal Cross of Merit, of the highest rank, for his indirect contribution to the integration of people with Turkish roots. For his scholarship, he received accolades in the form of honorary doctorates from the universities of Basel, Osnabrück, and Budapest. For his seventieth birthday, the directors of Hamburg's Max Planck Institute edited a Festschrift for him, in which authors from all over the world documented their high esteem for Drobnig the scholar.[10] But his many honours cannot distort the picture of Ulrich Drobnig the person. He respected everyone around him: students and professors, library workers, secretaries, administrative staff. He is survived by five children and a slew of grandchildren. To us, however, he gave the impression that his world was the Institute; and he gave much to it.
Jürgen Basedow
---
[1] Ulrich Drobnig, The International Encyclopedia of Comparative Law: Efforts toward a worldwide Comparison of Law, Cornell Int. L. J., 5 (1972) 113-129 (113).
[2] Drobnig, previous fn., Cornell Int. L. J., 5 (1972) 124.
[3] A list of his publications through 1997 was compiled at the Institute by Marianne Runkel in: Jürgen Basedow/Klaus Hopt/Hein Kötz, editors, Festschrift für Ulrich Drobnig zum siebzigsten Geburtstag, Tübingen 1997, p. 749-769.
[4] Verstößt das Staatsangehörigkeitsprinzip gegen das Verbot der Diskriminierung des EWG-Vertrages? (Does the nationality principle violate the EC treaty's ban on discrimination?) RabelsZ 34 (1970) 636-662 (645, 649).
[5] Thesen [des Instituts] zur Reform des Internationalen Privat- und Verfahrensrechts (Theses [of the Insitute] on reforming private international and procedural law), RabelsZ 44 (1980) 344-366 (345-6).
[6] Ulrich Drobnig, Empfehlen sich gesetzliche Maßnahmen zur Reform der Mobiliarsicherheiten? (Should there be legislation to reform secured transactions in movables?) Report F, in: Verhandlungen des 51. Deutschen Juristentages, vol. 1, Gutachten (Reports). München 1976, F 1-F 99.
[7] See Report of the Secretary General, Study on Security Interests, UN-Doc. A/CN.9/131, UNCITRAL Yearbook VIII (1977) 171-221, in which Drobnig's study is reprinted verbatim.
[8] He was a member of the advisory board. European Bank for Reconstruction and Development, Model Law on Secured Transactions, London 1994; digital edition 2004, at viii.
[9] Ulrich Drobnig/Ole Böger, Proprietary Security in Movable Assets, München 2015.
[10] See above at fn. 3.