An ancient code newly decoded
A conversation with alumna Katharina Pistor
Private Law Gazette 2/2021 – With her very well-received book The Code of Capital now available in German under the title Der Code des Kapitals, Katharina Pistor has pulled off a two-in-one coup: As an academic, she has written a book that resonates with a general readership; as a lawyer, she has sparked a debate among economists. The internationally renowned, German-born Columbia Law professor is also someone whom the Institute can claim as an alum. This past spring, she was supposed to return for an on-site research fellowship as part of a joint arrangement with our neighbours at the Hamburg Institute for Social Research (HIS). As a result of the pandemic, it ended up becoming a virtual research sojourn instead.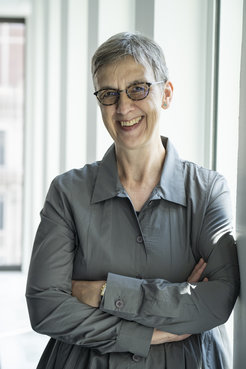 "To me, working as an academic and a researcher has a lot to do with the human connection," says Katharina Pistor per video call. Even in large lecture-style courses at Columbia Law School in New York, where she teaches corporate law, she makes it a point to interact with her students. Likewise, her four-week virtual fellowship at our two institutes in Hamburg was brimming with interaction. After a guest lecture at the HIS in which she explored contemporary perspectives on the writings of Max Weber, she followed in the rich tradition of the Institute's Ernst Rabel lecture series to deliver a talk entitled "Comparative law between transaction costs and political economy: The example of the corporation". Besides these lectures, there were mentoring sessions with early-career researchers and reading groups for lawyers and social scientists.
For Pistor, the idea that there should be a discourse among law, economics, and other social science disciplines is obvious: "I have always sought to learn what I thought I needed to know", she says. This is a bit of an understatement; Pistor has developed outstanding academic credentials and has been grappling with topics outside of the law proper for a long time. After studying law at the University of Freiburg, she studied Soviet law and acquired Russian on her way to earning a master's degree from the University of London. Later, for her master's degree in public administration at the Harvard Kennedy School, she examined legal and economic features of transitional economies in countries in the midst of transformation. Her dissertation analysed property and ownership reforms in Russia and the Czech Republic. In 1998, she came to the Institute to lead the Russia Unit.
A lecture series hosted by Harvard and an offer for a professorship there led her back to the United States two years later. She had no second thoughts about saying farewell to Germany's research-and-academics apparatus: "I've always been able to pursue the topics I wanted to here, and more avenues for getting my work published opened up immediately." The law-and-economics movement so prevalent in the United States was already familiar territory. She invokes the 2008 financial crisis as the "starting gun for finding out what is really going on with the financial system – not only how it works but also how it can fail." The Code of Capital explores how the law serves to create equal measures of wealth and inequality. The Financial Times named it as one of the best economics books of 2019. "I wrote the book for a wider audience, but I wasn't expecting it to have the kind of reach it ended up having. It was a nice homecoming for me to see the German edition being discussed in all the major newspapers."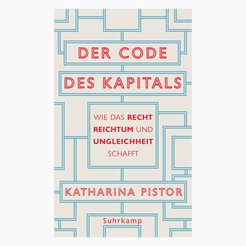 Asked about her impression of academics and research in Germany today based on her experience during her fellowship in Hamburg, Pistor replied, "I thought it was interesting to get to know some of the next generation of researchers here. The questions the doctoral students are asking today are completely different than the ones people were asking when I chose to embark on a career in teaching and research. I have become a little bit Americanized, so I put a lot of faith in everyone's individual initiative. Perhaps that was one way in particular that I was able to provide some useful insights to the young people I talked to."
Katharina Pistor is the Edwin B. Parker Professor of Comparative Law and Director of the Center on Global Legal Transformation at Columbia Law School in New York. After studying law at the University of Freiburg, she completed master's programs in London and at Harvard prior to earning her doctorate at the University of Munich. She served as the Institute's Russia expert before returning to the United States in 2000 to take up teaching at the Harvard Kennedy School of Government. She joined Columbia Law School in 2001. Katharina Pistor's research has won awards including a Max Planck Research Award.