Mateusz Grochowski honoured as finalist for the Polityka Academic Prize
Dr. Mateusz Grochowski, LL.M. (Yale), Research Fellow at the Institute, has been chosen as a finalist for the annual academic award bestowed by Polityka, Poland's leading weekly magazine. The award ceremony took place on 17 October 2021 in Warsaw.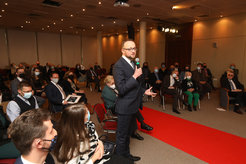 The prize, which includes scholarship award, has been conferred on young researchers in the humanities and natural sciences since 2001. Originally established primarily to provide financial support for Poland's next generation of scientists and researchers, it is now one of the country's most prestigious awards.
After receiving his doctorate from the Polish Academy of Sciences, Mateusz Grochowski earned a Master of Laws (LL.M.) from Yale Law School. He is an Affiliated Fellow of the Information Society Project at Yale Law School and was an Emile Noël Fellow at New York University Law School. Before relocating to the Institute, he was an Edmond J. Safra Fellow at the Buchmann Faculty of Law at Tel Aviv University and a Max Weber Fellow at the European University Institute. He is a member of the Office of Studies and Analyses of the Supreme Court of Poland and serves on the editorial board of the Journal of European Consumer and Market Law (EuCML).