EU Private Law
Anatomy of a Growing Legal Order
The body of private law rules set out in EU legislation has grown significantly over the last decades and it continues to expand in scope. On account of the fragmentary structure of EU law, it is usually only specific areas that are the object of legal study, such as EU labour law, EU company law or EU consumer law. Jürgen Basedow, Director Emeritus at the Institute, examines the subject from a new perspective and in so doing devises an innovative approach for the analysis of EU private law.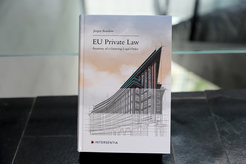 The central topic of his recently published monograph "EU Private Law" is the influence of EU law on private law relations. Building on the numerous contributions he has authored over the last three decades detailing the evolution of European law, Basedow analyses the private law of the European Union in the context of its historical and policy-based foundations.
Among other areas of inquiry, he explains just how private law is to be understood within the legal framework of the EU and he portrays the relationship of EU private law to traditional private law concepts. His study describes the ways in which the vertical legal relationships existing between the EU and its Member States have influenced the horizontal relationships of private law.
The emerging distinct characteristics of EU private law are then examined with greater precision in four lengthy chapters under the headings of "Foundations", "Principles", "Implementation and Enforcement" and "External Dimension". The result is a new foundation for a critical assessment of the current legal situation.


, EU Private Law: Anatomy of a Growing Legal Order, Intersentia, Cambridge 2021, cxxvii + 785 pp.