Breathing new life into research and teaching
Interdisciplinary and international: Jennifer Trinks looks beyond traditional boundaries
Private Law Gazette 1/2021 – Company law scholar Jennifer Trinks focuses her efforts on comparative research. She has studied in Germany, France and the USA and is conducting research in a discipline which until now has seen only few women arrive at its pinnacle. In addition, she belongs to a new generation of scholars who are committed to participation in the greater academic community and who strive to make their research accessible to the general public.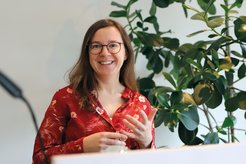 Institute research fellow Jennifer Trinks had begun to cast her gaze beyond national borders already as a law student, a fact demonstrated by her participation in the dual degree program in German and French law offered by the Ludwig-Maximilians-Universität München and the Université Paris II (Panthéon-Assas). It was during her semester in Paris that her interest in company law was awoken.
There are two aspects in particular that make the subject so fascinating for the young scholar: "Corporate law is characterized by a complex interplay of different players - from the shareholders to the management and supervisory bodies of companies to the business partners and employees, to name just a few. Achieving a balance between their various interests is, on the one hand, based on very technical rules. On the other hand, corporate law is highly relevant for business, society and politics, with the consequence that pragmatic solutions are often required. This dynamic repeatedly gives rise to new and exciting issues."
Her interest in fundamental academic questions and interdisciplinary research led her to Yale, where she earned a Master of Laws in 2017. Having completed her dissertation on usufruct as a legal instrument in German and French corporate law, she is now in the process of determining the subject area for her post-doctoral thesis. The MPI fellow can reveal this much already: It will be international and interdisciplinary. "Comparative law often reveals exciting new approaches to familiar problems. Findings from other subjects, such as the social sciences or psychology, can add further perspectives and bring a breath of fresh air to legal discourse."
Jennifer Trinks has on many occasions demonstrated her talent for communicating academic issues to non-specialists in real-world terms. Many people at the Institute still vividly remember her presentation on the topic of usufruct, which notched the young researcher first place in the Law Slam at the 2015 Hamburg "Night of Knowledge". When the Max Planck Institutes in Hamburg transformed a historic subway car into a mobile lecture hall for the nationwide Max Planck Day 2018, she was one of the "Flying Professors". Her topic: "The legal dimension of lottery pools" (Die rechtliche Dimension von Lottotipp­gemeinschaften). Her passion for scholarship is matched by her great satisfaction in teaching. Since starting work at the Institute in 2013, she has led multiple study groups and presided over assignment workshops at the University of Hamburg.
In addition to her commitment to teaching and the transfer of knowledge, Jennifer Trinks has also been engaged as an academic advocate for a number of years. In 2015, she initiated efforts to secure a representative voice for doctoral candidates at the Institute, and she was promptly elected spokesperson. In 2020, her colleagues elected her to represent them in the Human Sciences Section of the Scientific Council of the Max Planck Society. With an open ear for the great variety of academic and developmental [F1] issues and with her proven creative enthusiasm, she is in this capacity as well a valued participant.