Reactions to Corona in Japanese and German Law
Approximately six months after the first COVID-19 infections were confirmed in Japan and shortly thereafter in Germany, the Centre of Expertise on Japan at the Max Planck Institute for Comparative and International Private Law, working in partnership with the German-Japanese Association of Jurists, staged the academic event "Reactions to Corona in Japanese and German Law. A Virtual Conference in the Pandemic Era". On 17 December 2020, a conference volume was published digitally.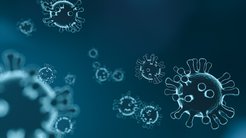 The conference, which was held simultaneously in Japan and Germany as well as in other international locations, was dedicated to the topics of the law of obligations, labour law, procedural law and the public law framework within which private-law activities occur in the time of the pandemic. Focusing on legal relationships that have been significantly affected by measures combating the Corona virus, the selected topics proved fertile ground for a highly current comparative inquiry. Moreover, the conference demonstrated the possibilities that new digital communication tools hold for Japanese-German academic exchange.
The online presentations made at the Institute's first large-scale virtual academic conference, organized by Ruth Effinowicz and Harald Baum, respectively the head and former head of the Centre of Expertise on Japan, were collectively published on SSRN as a Max Planck Private Law Research Paper. Comprising contributions from eight scholars from Japan and Germany, the publication is preceded by an introduction authored by Ruth Effinowicz in which the jurist and Japanologist outlines the topic and contrasts the reactions in both countries in the areas of law dealt with at the conference. Her summary of findings includes the observation that the pandemic has acutely identified various legal shortcomings, making for an uncomfortable process that nevertheless represents a chance for improvement.


, (

eds.

)
, Reaktionen auf Corona im japanischen und deutschen Recht. Beiträge zur virtuellen Tagung am 19. und 20. August 2020 in Hamburg 2020, IV + 130 pp.
Videos of selected presentations from the conference can be accessed here.