Legal scholarship and gender studies in dialogue
Private Law Gazette 1/2020 – Ivana Isailović is co-leader of the project "Gender and Private International Law", initiated by Institute Director Ralf Michaels. In her view, the interdisciplinary approach will facilitate the analysis of legal rules and court decisions in a wholly new light. What motivates a jurist to turn her focus to gender studies?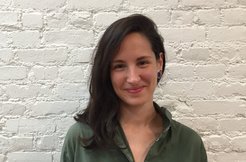 "Like many scholars who received a doctrinal legal education in Europe, for a long time I didn't really understand what gender theory was or how it could enrich our understanding of the law – even though I was raised in a feminist household and had always thought of myself as a feminist", says Ivana Isailović, whose research tries to identify the links between private international law and gender studies. As she researched transnational family law cases at Sciences Po in Paris for her dissertation, she observed that Muslim women and gay people were often portrayed in a negative light in French case law as well as the private international law literature. "I found the homophobic protests that took place in France in 2013 very disturbing. It was very personal for me and it inspired much of my subsequent work on law, and queer and gender theory."
After earning her doctoral title at Sciences Po in 2014, the Belgrade-born and Paris-raised scholar embarked on an international career path. Amongst her stations, she was a fellow at Harvard University's Center for European Studies as well as at the NYU School of Law, Northeastern University School of Law and at the Massachusetts Institute of Technology (MIT). Since autumn 2019 she has in partnership with Institute Director Ralf Michaels led the interdisciplinary project "Gender and Private International Law" at the Hamburg Max Planck Institute.
"Interdisciplinarity forces us to go outside our comfort zones, to question ourselves and the ways in which we think about knowledge production, and to rethink how law affects society and power relations", explains Ivana Isailović. "It is this dynamic which makes cooperation across subject-matters so compelling." One challenge she perceives is the need for translation between the disciplines. She compares this with mastering multiple languages, a process that also requires navigation between different world perspectives.
She encourages younger colleagues to examine the rationale of other areas, while at the same time not losing sight of legal norms and legal methodology. "In my experience researchers from different fields will, for various reasons, often have little interest in participating in a productive dialogue. In our project we attempt to overcome these obstacles by means of cross-teaching." Dr. Isailović will have the opportunity to further explore her interdisciplinary approach this August when serving as assistant professor of EU Law at the Amsterdam Centre for European Law and Governance located at the University of Amsterdam.