A conversation with Dr Aygun Gunduz Mammadzada, Konrad Zweigert Scholar 2022
After graduating with a high honor LL.B. from the Law Faculty of Baku State University, Azerbaijan, in 2013, Aygun Mammadzada worked at several law firms before obtaining a Master's degree (LL.M.) in International Business Law from the University of Southampton in 2015 which was fully funded by the Azerbaijani Government. She then worked as a lawyer at the Ministry of Education of Azerbaijan before obtaining a full scholarship from Southampton Law School, where she completed her PhD in 2022. She is the Managing Editor of the Cambridge University Press journal Global Constitutionalism and a lecturer at Bournemouth University. Having conducted research at the Institute as a Konrad Zweigert Scholar in 2019, she came back to Hamburg for a four-week research stay in April 2022.
What is your current research focus?
In my current research I focus on private international law, conflict of laws, and international dispute resolution, including international commercial litigation and international commercial arbitration. Shortly before starting my research stay in Hamburg, I successfully defended my PhD thesis titled "Enhancing Party Autonomy under the Hague Convention on Choice of Court Agreements 2005: Comparative Analysis with the New York Arbitration Convention and Brussels Recast Regulation".
How did you benefit from your first research visit to the Institute in 2019?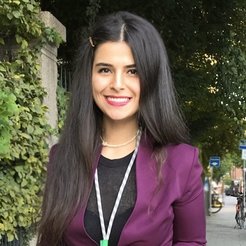 I have been really lucky to be able to do research at this world-renowned institute. Cross-border issues are a central aspect of my work. During my stay in 2019, I wrote substantial parts of my doctoral thesis, dealing with fundamental aspects of party autonomy within the Hague Convention.
My research work, however, consisted not only of theoretical and doctrinal aspects but also historical and comparative elements. My subject required me to examine the roots of the party autonomy principle and underlying theories. I also had to trace back the negotiation history of the Convention at the Hague Conference by looking at official documentation, preliminary works, and travaux préparatoires. I was able to directly access key resources and find exceptional materials and authentic documents in the library's extensive collection. Important for me was also to consult the scholarship of different national jurisdictions beyond Europe in Asia and the US and to assess approaches of stakeholders globally towards the drafting of the Hague Convention.
Given the impossibility of working through all of the relevant materials within a limited period of time, it was great to be able to use the freely available copying and scanning facilities. This allowed me to take a lot with me, which I could then refer to in the later chapters of my thesis. Following my defence, the examination committee highly appreciated my bibliography as well as my detailed examination of a broad range of primary and secondary materials. That would not have been possible without my stay at the Institute.
My participation at the regularly organised "Aktuelle Stunde" seminars enabled me to join a lively academic exchange of ideas and to evaluate my findings. Meeting many researchers coming to the Institute from diverse backgrounds across the world, I was also able to have fruitful discussions and expand my academic network.
What made you return to Hamburg?
The Institute is a home for all those involved in private international law in academia and practice. Once you get to know the Institute, you will always seek new opportunities to return. In the words of Leonardo Da Vinci: "Once you have tasted the taste of sky, you will forever look up". During my recent stay here, I edited my dissertation for publication and brought it up to date with the latest research materials, all of which I could easily find here.
How would you describe the Institute to someone who has never been here?
Nothing compares to studying international law issues at the Hamburg Max Planck Institute, surrounded by a truly international atmosphere in a cosmopolitan and multicultural city. You will be assigned an individual workspace equipped with excellent modern facilities in a reading room facing a beautiful garden. The librarians will always be happy to listen and help. And in a stunning labyrinth in the basement of the building, you will find more books than one person could ever read.
---

Image: © private