Scrutinising Groups of Companies in Stock Corporation Law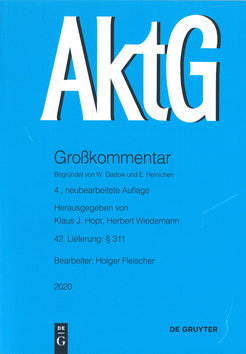 In a newly authored commentary comprising roughly 250 pages, Holger Fleischer, Director at the Institute, examines in detail the central provision governing de facto corporate groups, § 311 Stock Corporation Law (AktG). The comprehensive introductory treatment traces the development of stock corporation law from the Weimar Republic to the major reform of 1965 and on to the most recent changes effected by the EU Directive on shareholders' rights.
Also addressed in detail are questions regarding the protection against the exertion of group control and the interface between group law and takeover law. The comment on Section 311 focuses on the core functions of group management in de facto corporate groups: the flow of information and information barriers, internal financing in de facto corporate groups, group-wide compliance and the attribution of knowledge within a corporate group. The external liability of corporate groups is also dealt with in depth.




, Kommentierung zu § 311 AktG, in: , Großkommentar Aktiengesetz, 4., neubearbeitete Aufl., 42. Lf., De Gruyter, Berlin 2020, 1–248. , (eds.)