The law of family firms
Family firms are attracting growing attention in company law research. This comes as little surprise given that family businesses account for 91 per cent of all companies in Germany, employing 57 per cent of the workforce and generating 55 per cent of private sector revenue. In many other countries, too, they are the backbone of the economy. Institute Director Holger Fleischer has initiated a series of conferences to discuss the law of family companies and the related topic of family constitutions in a comparative and interdisciplinary way. He has also devoted his attention to these issues in a variety of publications.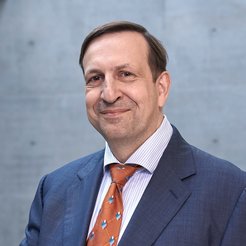 In his article "Familiengesellschaften und Familienverfassungen: Eine historisch-vergleichende Standortbestimmung" [Family Firms and Family Constitutions: A Historical-Comparative Assessment], Holger Fleischer takes a long-term perspective to illustrate what legal forms family companies have made use of and to analyse the family constitutions they have adopted:
Family firms have influenced the formation of company law from its earliest beginnings. The ancient Roman societas or partnership had its origins in the household (consortium ercto non cito) carried on by the heirs of the paterfamilas, which was frequently described as a consortium among brothers. In the Middle Ages, family firms acted as promoters of the compagnia, accomenda and general partnership. The Medici, for example, availed themselves of the compagnia – literally a community of bread – in the fourteenth century when they founded their bank in Florence, which was organized as a true partnership group. They also used the accomenda, which a 1408 Florentine law had made available to them. In Germany, the 1494 partnership agreement among the brothers Ulrich, Georg and Jakob Fugger was one of the very first general partnerships.
The next major development came in the late nineteenth century with the introduction of new types of partnerships with limited liability. In Germany, an urgent need to reform family and inherited companies had just been identified, which the legislature responded to with the 1892 GmbH Gesetz (Limited Liability Companies Act). In England, many family businesses transformed their small businesses into private companies, which the House of Lords permitted in the landmark Salomon ruling of 1897. However, major business dynasties also changed their form from a partnership to a limited-liability company, including Barings Bank in England, which did so in 1890 in the wake of a near-collapse, and the Rockefellers in the United States, who did so in 1870 in pursuit of new sources of revenue.
In 20th and 21st century Germany, the landscape of family businesses is distinguished by a tremendous diversity of legal forms. Along with the numerous basic types, including the partnership limited by shares (e.g. Merck), it was especially combinations of types that became more popular – from the GmbH & Co. KG (a limited partnership in which the general partner is an LLC) to the SE & Co. KGaA (a partnership limited by shares with a European corporation as general partner, e.g. Bertelsmann). Many neighbouring countries, by contrast, get by with fewer legal forms and have a critical attitude towards combinations of types.
The family constitution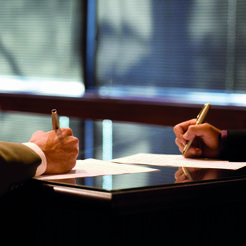 These days a growing number of family firms are adding what is known as a family constitution to their basic framework of company law. In this constitution, they document their collective canon of values and their business objectives. This modern management tool has early forerunners in the house laws (Hausgesetze) of the late Middle Ages, through which families of the upper nobility (e.g. the Habsburgs and Hohenzollerns) made specifications outside the bounds of civil law. Patriarchs of the financial aristocracy (e.g. Rothschild, Peugeot, Schlumberger) later followed suit by establishing guidelines for their family firms.
Today's family constitutions are highly similar to their predecessors in that their core concerns relate to company, family and inheritance law. What has changed is primarily the way that these guidelines are determined: they are no longer decreed unilaterally by the patriarch of a rich or noble family, but rather agreed among all family members in a shared process. This creation process is often just as significant as its outcome.
, Familiengesellschaften und Familienverfassungen: Eine historisch-vergleichende Standortbestimmung, Neue Zeitschrift für Gesellschaftsrecht 2017, 1201–1210.
---
Articles on family constitutions
Family constitutions are enjoying increasing popularity. In these documents, families with businesses lay down their shared values and their responses to potential conflicts. To date the family constitution, which has developed primarily from a business perspective, has been regarded as holding no legal relevance. Legal scholar Holger Fleischer refutes this assertion. In order to explain the function and impact of the family constitution, he places it in the overall context of family business governance, which is understood as an overarching framework that ties together the three sub-areas of a family business – the business, the family, and the shareholders – and coordinates them with each other.
See also: Holger Fleischer: Die Familienverfassung: Vertrag ohne Schwert?
, Family Firms and Family Constitutions: A Legal Primer, European Company Law 15 (2018), 11–20.
, Das Rätsel Familienverfassung: Realbefund – Regelungsnatur – Rechtswirkungen, Zeitschrift für Wirtschaftsrecht 37, 32 (2016), 1509–1519.
Zurich conference and book publication on the law of family businesses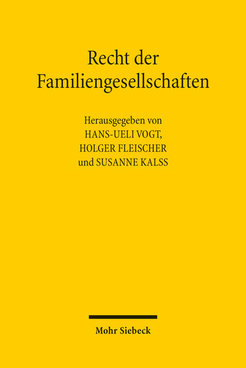 The series of events on the law of family firms kicked off with a conference that Holger Fleischer organised jointly with Susanne Kalss (Vienna University of Economics and Business) and Hans-Ueli Vogt (University of Zurich). Papers from this conference are now available in a comprehensive edited volume. This volume is devoted to the special problems family businesses face under company and capital markets law. It covers alternative legal forms for family firms, the significance of a family constitution, the family office, capital markets compliance for listed family firms, management of the circle of shareholders, and legal issues surrounding generational transitions.
See also: New publication: Law of Family Firms
, , (

eds.

)
, Recht der Familiengesellschaften, Mohr Siebeck, Tübingen 2017, VIII + 302 pp.
Interdisciplinary conference: Hamburg Conference on the Law and Management of Family Firms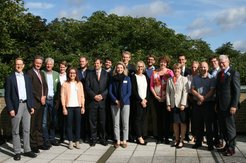 A first-time event took place at the Max Planck Institute in Hamburg on 14 and 15 September 2017. Under the leadership of MPI Director Holger Fleischer and Stefan Prigge, a professor at the Hamburg School of Business Administration and research director at the Institute for Mittelstand and Family Firms, scholars and practitioners in management research and company law gathered together for the first time to discuss topics in family business governance across disciplinary boundaries.
The main theme of the conference was the family constitution, which is assuming ever greater significance not only in the United States and Australia, but also in Europe, whether as the pacte familial in France, the protocolo familiar in Spain, the charte familiale in Belgium, the patto di famiglia in Italy or the Familienverfassung in Germany. A total of ten presentations examined this modern instrument of corporate governance from a variety of perspectives. The conference proceedings are currently being prepared. Because of the enthusiastic response to this event, the interdisciplinary forum will continue in autumn 2018 with a conference devoted to the general topic of financing family firms.
---

Header image: © iStock / AlexD75
Portrait Holger Fleischer: © Max Planck Institute for Comparative and International Private Law / Johanna Detering
Contract signing: © iStock / stevecoleimages
Group picture: © Max Planck Institute for Comparative and International Private Law