A pathfinding eye for law and scholarship
A total of 54 academic students and peers have dedicated a comprehensive festschrift to Reinhard Zimmermann, director at the Institute, on the occasion of his 70th birthday. With this publication they pay tribute to a multifaceted researcher, an exceptional teacher, and an accomplished framer of academic institutions.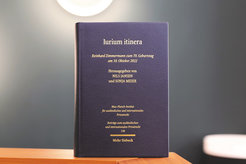 As overseen by Nils Jansen and Sonja Meier, the commemorative volume assembles 52 contributions that uniquely reflect Zimmermann's work and impact. The allusion-rich title "Iurium itinera" makes reference to the world view of the honouree and a career which, in all of its many stages, was characterized by a commitment to research and teaching as well as diverse engagement with the legal world.
Contributions by a variety of colleagues shedding light on Zimmermann's life are followed by articles authored by individuals who wrote their doctoral or post-doctoral dissertations under his supervision or who spent formative years working in or with his team. As in Zimmermann's work, the spectrum of topics ranges from the method of historical comparison and the emergence of codifications to the structural principles of legal systems and the theories underlying the law of obligations and the law of succession.
, , , , , , , , , , (

eds.

)
, Iurium Itinera. Historische Rechtsvergleichung und vergleichende Rechtsgeschichte / Historical Comparative Law and Comparative Legal History. Reinhard Zimmermann zum 70. Geburtstag am 10. Oktober 2022 (Beiträge zum ausländischen und internationalen Privatrecht, 138), Mohr Siebeck, Tübingen 2022, XXIII + 1126 pp.
---


Image: © Max Planck Institute for Comparative and International Private Law / Johanna Detering