Transaction insurance
In corporate acquisition practice, the importance of transaction insurance has grown enormously in recent years. Stefan Korch, research fellow at the Max Planck Institute for Comparative and International Private Law, and Jan Lüttringhaus, former Institute research fellow and professor at Leibniz University Hannover, have edited the first German-language handbook on the subject.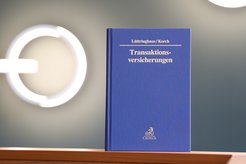 Transaction insurance offers insurance protection in corporate or real estate transactions and serves to cover claims for breach of warranties and indemnities. Since its development in the 1980s, this insurance product first made inroads in the USA, Great Britain, and Scandinavia before finally establishing itself in the German market as well. Despite its high practical relevance, transaction insurance has thus far received only minimal attention from legal scholarship. Providing an analysis of the entire range of transaction insurance, the new handbook closes this gap with scholarly rigour while simultaneously keeping a close eye on actual practice. Alongside the editors, the work's authors include long-experienced practitioners working in the field. The volume is aimed at legal researchers as well as transaction and insurance practitioners.
, (

eds.

)
, Transaktionsversicherungen – W&I und Contingent Specific Risk Insurance in der M&A-Praxis, C.H. Beck, München 2022, XXXII + 454 pp.
---

Image: © Max Planck Institute for Comparative and International Private Law