Claudia Holland elected to IALL Board of Directors
Claudia Holland, head of the law library at the Max Planck Institute for Comparative and International Private Law, has been elected to the Board of Directors of the International Association of Law Libraries (IALL). The incoming board will take up its responsibilities this October during the IALL's 2022 Annual Course, which is being hosted this year by Stanford Law School. The board will serve a three-year term until 2025.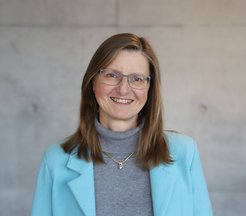 Claudia Holland has headed up the Institute's library since 2016. A research librarian by training, she studied German and French law in Göttingen and Saarbrücken. Her career stations have included the universities of Freiburg, Dresden, and Leipzig as well as the Bundesverfassungsgericht (Germany's federal constitutional court). She has served on national committees of various trade associations along the way, including for the Association of German Librarians, the AjBD (the IALL's German section), and the Sprecherkreis der Informationsdienstleistenden der MPG (spokespersons' council of information service providers for the Max Planck Society).
Founded in 1959, the IALL today is an internationally active nonprofit organization of libraries and librarians and other organizations and individuals united in the essential mission of acquiring and disseminating legal information from foreign countries or on the subject of international law.


---

Image: © Max Planck Institute for Comparative and International Private Law / Johanna Detering