The Private Side of Transforming our World
The role of private law and of private international law (PIL) in implementing the sustainable development goals of the United Nations 2030 Agenda has long received little attention. Institute Director Ralf Michaels is co-initiator of an international research project that looks to fill this gap. In a just-released edited volume, each of the Agenda's 17 sustainable development goals is for the first time analysed with a view towards assessing the contribution that PIL can make to their achievement.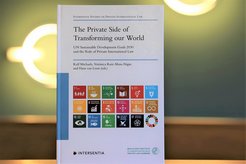 Most transactions and investments, as well as many activities that affect the environment, occur as conduct falling in the realm of private law. Nonetheless, the UN sustainable development goals had not until recently been the subject of extensive discourse in the field of PIL. This state of affairs ended with a 2018 call for papers in which Ralf Michaels, together with Verónica Ruiz Abou-Nigm of Edinburgh Law School and Hans van Loon, former Secretary General of The Hague Conference on Private International Law, invited scholars worldwide to explore the relationship between each of the sustainable development goals and PIL. Through international and interdisciplinary cooperation, the thus far underestimated potential of private law was to be made visible.
Accordingly, the 22-member global team of authors came together as part of an endeavour which ultimately produced "The Private Side of Transforming our World", an edited volume devoting a separate chapter to each of the 17 goals. The contributions were presented and discussed at an international conference held in hybrid form at the Hamburg Institute from 9 to 11 September 2021. The book appears both in print and as an open access online publication. The target audience is not only researchers but also lawyers and decision-makers working in state governments and international organizations.


, , (

eds.

)
, The Private Side of Transforming our World, Intersentia, Cambridge 2021, XIV + 574 pp.

Current information on the research project "The Private Side of Transforming our World": www.mpipriv.de/sdg2030
Videos from the conference: www.mpipriv.de/conference-sdg-2030