Holger Fleischer receives honorary doctorate from Radboud University
On 21 October 2021, Holger Fleischer, director at the Institute, was awarded an honorary doctorate from Radboud University in Nijmegen. Fleischer's research spans the disciplines of law and economics. This honorary degree recognizes first and foremost his interdisciplinary work in the area of international company law. He is connected to Radboud University through a close working relationship going back many years.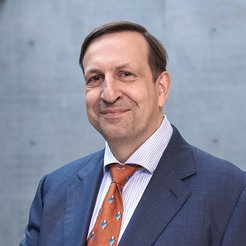 In the words of Claartje Bulten, professor of company law at Radboud University, "Fleischer is known as one of the great innovators of company law in Germany. The enormous number of publications from his hand are considered groundbreaking and original, partly because he combines legal history, comparative law, law and economics, European law, and positive law."
The honorary doctorate was awarded as part of Radboud University's 98th annual "Dies Natalis" celebration of its 1923 founding as the Catholic University of Nijmegen. Radboud University, as it has been known since 2004, ranks among the 150 best universities in the world.
Prof. Dr. Dr. h.c. Dr. h.c. Holger Fleischer, LL.M, Dipl.-Kfm., is a professor at Bucerius Law School and has been a director at the Institute since 2009. He studied law and economics in Cologne and went on to earn a master's degree from the University of Michigan. He habilitated through the University of Cologne in 1999 before being appointed to the faculties at the University of Göttingen and the University of Bonn. He won the German Research Foundation's Gottfried Wilhelm Leibniz Prize in 2008.