Justin Monsenepwo appointed at the Université de Montréal
Justin Monsenepwo Mwakwaye, former research fellow at the Institute, has been appointed as university lecturer at the Université de Montréal from 1 August 2021. In his new position, he will focus on commercial private international law and teach commercial contract law.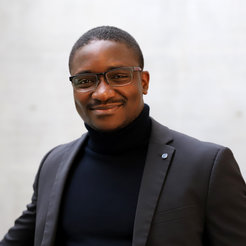 Dr. Justin Monsenepwo LL.B. (UPC), LL.M. (Dallas/Würzburg), studied law at the Université Protestante au Congo in the Democratic Republic of the Congo and earned his doctoral degree at the Julius-Maximilians-Universität Würzburg, where he had previously completed a master's program in international and European commercial and economic law. Among other honours, he was a scholarship recipient of the German Academic Exchange Service (DAAD) and of the Friedrich-Ebert-Stiftung.
From 2020 to 2021, Monsenepwo was employed at the Institute and, together with Institute Director Ralf Michaels, initiated the workshop series "Private International Law in Africa". Monsenepwo's activities included stays as guest lecturer at the University of Johannesburg and the Shanghai University of Political Science and Law. He is, as well, a research associate with the University of Oxford's "China, Law and Development" project and a member of the University of Johannesburg's legal faculty. He is a co-founder and member of the Working Group on Congolese Private International Law, which has its goal the formulation of modern and effective conflict-of-law rules for the Democratic Republic of the Congo.