Cases on Capital Market Law
Holger Fleischer and Stefan Korch are the editors of a newly released case book titled "Fälle zum Kapitalmarktrecht" [Cases on Capital Market Law]. Totalling approximately 200 pages, the work contains 12 in-depth case depictions accompanied by model solutions which primarily mirror high court rulings. The authors are, or were, academic staff members at the Max Planck Institute for Comparative and International Private Law with teaching experience in the field.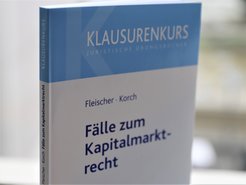 The relatively young field of capital market law has quickly assumed a permanent place in academic curricula and is now taught at 31 German law faculties. However, as a cross-sectional field of European Union law character, and as also reflecting a strong influence of leading ECJ and Bundesgerichtshof cases, the subject is not always easily accessible.
This textbook allows students to approach the topic from a case-based perspective, and its portrayal of the various parties encompassed by capital market law disputes will help students to prepare for specialization exams. The case studies are preceded by an introduction orienting readers on the special features of capital market law, these including, for instance, the European legal dimension, the multi-level regulatory system, the links not only to private law but also to public and criminal law, and the close relationship to corporate law.


, (

eds.

)
, Fälle zum Kapitalmarktrecht, Vahlen, München 2021, XVII + 203 pp.