Partnership law in comparative perspective
Holger Fleischer, Director at the Max Planck Institute for Comparative and International Private Law, is the editor of a newly published handbook presenting a panoramic view of partnership law in comparative perspective. The nearly 500-page book is the product of an intensive, multi-year engagement with partnership law and considers the topic's past, present and future manifestations. All of the contributing authors were or are members of the economic and business law working group at the Hamburg Max Planck Institute for Comparative and International Private Law.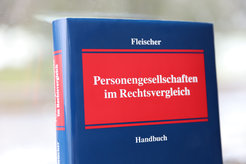 As explained by the editor, the law of partnerships is not a subject that has basked in the frequent glow of comparative inquiry. Indeed, the topic's past treatment has been relatively scarce. The last cross-border survey was undertaken over 50 years ago, and textbooks and commentaries offer only few comparative references.
This volume, comprising a general report and 11 country reports, aims to close this research gap. The general report distills the individual findings and traces the historical-comparative development lines from the ancient Roman societas to the April 2020 Maurach draft of an act for the modernization of partnership law. The country reports provide information on the current status of partnership law in Europe and the United States, including reform plans. The preparatory country reports formed the basis for approximately 20 law journal articles that analyse numerous partnership law institutions and concepts through a comparative lens.


, Personengesellschaften im Rechtsvergleich, C.H. Beck, München 2021, XXX + 483 pp.