Festschrift commemorating the 80th birthday of Klaus J. Hopt
Prof. Dr. Dr. Dr. h.c. mult. Klaus J. Hopt, MCJ (NYU) stands as one of the most acclaimed and internationally influential German legal scholars of our era. From 1995 until 2008 he was Director at the Max Planck Institute for Comparative and International Private Law. This Festschrift, presented to him on the occasion of his 80th birthday by scholars he has supervised as well as authors with whom he has worked closely, is – in terms of size alone – a testament to the resonance of his research and teaching. Among the authors are numerous current and former academic staff members of the Institute.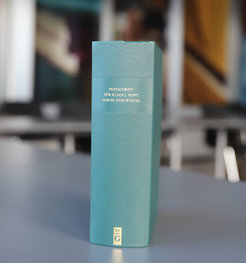 The Festschrift brings together contributions from 87 renowned authors. The choice of topics reflects the range of subjects and the international perspective long associated with the name Klaus J. Hopt. Almost all the editors of this volume were similarly involved in the production of the Festschrift authored in 2010 for his 70th birthday. In their foreword, they look back on the scholarship that the honouree has generated since his retirement, a volume and scope of work attested to by the publication list that appears following the Festschrift contributions.
Klaus J. Hopt's commitment to the next generation of academics is shown with a listing of all the post-doctoral and doctoral dissertations he has supervised. A total amassing 131 academic works. Many of his former students are now themselves accomplished scholars engaged domestically and abroad. Together with the other contributing authors, they express their gratitude and appreciation for the long and fruitful collaboration they have enjoyed.

Stefan Grundmann, Hanno Merkt, Peter O. Mülbert et al. (eds.), Festschrift für Klaus J. Hopt zum 80. Geburtstag am 24. August 2020, Walter de Gruyter, Berlin/Boston 2020, XVIII + 1,592 pages