"Mandatory Family Protection": The next publication in the series "Comparative Succession Law"
Despite the immense impact that succession law has on the lives of many individuals, it is one of the less researched foundational fields of private law. Institute Director Reinhard Zimmermann, together with Kenneth Reid from the Edinburgh Law School and Marius de Waal from the Stellenbosch University, is currently in the process of analysing the subject of succession law from historical and comparative perspectives. With the publication series "Comparative Succession Law", an international working group under their leadership is creating a legal resource of a seminal nature. Following edited volumes on testamentary formalities and intestate succession a third volume has now been released under the title "Mandatory Family Protection".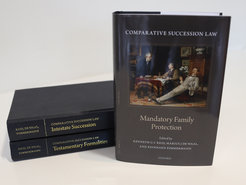 In principle, the succession law regimes of all the jurisdictions examined within the scope of this study provide for the freedom to dispose of one's property in a last will. At the same time, all of these legal systems afford close family members with rights that serve to limit testamentary freedom. In European legal systems, as well as in those non-European legal systems shaped by Roman law, the principle of family solidarity can be traced back to regulatory notions that have their origins in antiquity. In German and Austrian law, this restriction of the testator's freedom of disposal is today known as "Pflichtteilsrecht" (a right to a compulsory portion).
Reinhard Zimmermann, co-editor of all three volumes in the series, has authored chapters in which he describes the Roman law that protected relatives who had been passed over or disinherited in the will, the current system of compulsory portions in German law, and the corresponding regulations of other continental European legal systems. The present volume also has amongst its authors three further fellows from the Max Planck Institute for Comparative and International Private Law: Knut Benjamin Pißler, Head of the Centre of Expertise on China and Korea, Jan Peter Schmidt, Head of the Centre for the Application of Foreign Law, and Nadjma Yassari, Head of the Research Group on the Law of Islamic Countries. These authors address the tension between testamentary freedom and the claims of relatives in China, Latin America and under Islamic law.
The editors dedicate a final chapter to a comparative assessment of the law as it is today in the countries and legal traditions surveyed in this volume. In doing so, it is made clear that the solutions adopted by the individual jurisdictions fall into one of two categories: a traditional approach that gives certain relatives the right to a pre-ordained share of decedent's estate, and a needs-based approach. Both models are and have been subject to criticism as well as reform proposals, with some of these reforms having found their way into legislation in recent years. In this regard, social and demographic changes suggest a move towards a relaxation of fixed mandatory shares in favour of a more needs-based solution.
, , (

eds.

)
, Comparative Succession Law, Bd. 3: Mandatory Family Protection, Oxford University Press, Oxford 2020, xxviii + 804 pp.
Further publications in the series
, , (

eds.

)
, Comparative Succession Law, Bd. 1: Testamentary Formalities, Oxford University Press, Oxford 2011, XIX + 502 pp.
, , (

eds.

)
, Comparative Succession Law, Bd. 2: Intestate Succession, Oxford University Press, Oxford 2015, XIX + 528 pp.