Elena Dubovitskaya receives funding award for her post-doctoral dissertation
Priv.-Doz. Elena Dubovitskaya, Senior Research Fellow at the Max Planck Institute for Comparative and International Private Law, has been awarded the Förderpreis of Esche Schümann Commichau Foundation for her post-doctoral dissertation on the obligation of stock company board members to disclose information.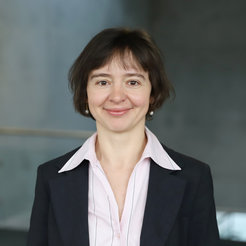 In her honoured post-doctoral thesis (Habilitationsschrift), Elena Dubovitskaya examines the personal disclosure duties of members of companies' management or supervisory bodies. Does a manager, in the case of a management buy-out, have to inform the shareholders of the management plans for the company as well as of its business opportunities and the values of its assets? What is the situation with personal information as to health conditions or family problems? Disclosure duties often are not legally regulated, but rather are derived from general legal provisions such as the duty of loyalty or culpa in contrahendo. However, the wish for disclosure, whether towards the company or towards the capital market, conflicts with constitutional law and data protection regulations when it concerns personal data.
Elena Dubovitskaya studies this problem in her post-doctoral work from a variety of perspectives (company law theory, constitutional law, legal theory, legal sociology and comparative law). Ultimately, she argues in favour of restraint in establishing disclosure duties: modern company law should not aim for 100% transparency at the expense of individual privacy.
Elena Dubovitskaya studied law at Lomonosov Moscow State University, where she completed a dissertation in 2003 on freedom of establishment for companies in the EC. She then studied law at the University of Bonn and passed both state law exams. In 2019 she was granted her post-doctoral degree from Bucerius Law School. Elena Dubovitskaya has been a senior research fellow at the Institute since 2015.
The post-doctoral thesis was published in September 2020 by Mohr Siebeck:
<b><span class='author_name'>Elena Dubovitskaya</span></b>, Offenlegungspflichten der Organmitglieder in Kapitalgesellschaften (Jus Privatum, 243), Mohr Siebeck, Tübingen 2020, XXIV + 582 pp.