Private international law between tradition and innovation
The Young Scholars of Private International Law held their second annual meeting in 2019, bringing together participants at a conference titled "Private International Law between Tradition and Innovation". The symposium contributions, which have been compiled in a recently published conference volume, included the keynote address of Jürgen Basedow, Emeritus Director at the Max Planck Institute for Comparative and International Private Law, as well as a paper on influencer marketing authored by Denise Wiedemann, Institute Research Fellow,. The conference volume has been edited by Caroline S. Rupp in cooperation with, among others, Konrad Duden, Research Fellow at the Institute.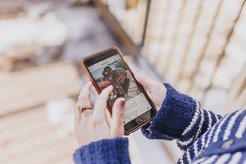 While today's conflict of laws rules are strongly shaped by traditional concepts and methods, this is also an area of law facing the twenty-first century's changes and challenges like no other. The authors trace diverse facets and lines of development from various areas, ranging from historical foundations and the general section to current developments in company, family and succession law. Digitalization issues and questions of international civil procedure are likewise addressed.
The beginning and the end of the volume are comprised by contributions authored by staff members of the Institute.
In his essay "Aufgabe und Methodenvielfalt des internationalen Privatrechts im Wandel der Gesellschaft" ["The Role and Variety of Methods of Private International Law in the Changing Society"], Jürgen Basedow considers the basis of private international law. As he emphasizes, it lies in the task that has always defined PIL: the coordination of legal systems with the aim of finding a legally certain solution for disputes having a cross-border element. Over time, a variety of methods have been developed to accomplish this task. Jürgen Basedow traces this path of development and also offers an outlook on two potentially new methodological approaches: cooperation and equivalence tests.
One particular challenge of the 21st century is focused on by Denise Wiedemann's contribution "Style Icons, Travel Addicts and Food Junkies". Her paper examines influencer marketing on platforms such as Instagram as relates to the localization and applicability of the consumer protection regulations embedded in European legislation on conflict of laws and international civil procedural. The article shows that the directed activity criterion of Art. 17 Brussels Ia Regulation/ Art. 6 Rome I Regulation, which has in the past been discussed by the ECJ particularly in connection with websites, can generally also be used for modern forms of marketing. In the case of influencer marketing, as with websites, the question of targeted activity depends on the circumstances of the individual case. As Denise Wiedemann explains, the decisive factor is whether the influencer has directed his or her social media contributions to the Member State of the consumer and whether the consumer can prove that the influencer has acted with the knowledge and consent of the firm at issue.

Contents:
Jürgen Basedow: Aufgabe und Methodenvielfalt des internationalen Privatrechts im Wandel der Gesellschaft
Kristin Boosfeld: Allseitig, einseitig – vielseitig. Zur Bedeutung der Regulierung für das Kollisionsrecht
Felix M. Wilke: Der Allgemeine Teil zwischen Tradition und Innovation
Stefano Dominelli: Old Problems and New Legal Instruments in Commercial Matters: An Inquiry on the Methodological Regime of Protection of »Disadvantaged Parties« in EU Private and Procedural International Law
Tess Bens: Preach What You Practice: The Allocation of Claims in Cross-Border Multi-Party Disputes
Eva Recamán Graña/Lothar Wolff: Abschied vom Einheitsstatut. Die Konkurrenz von Anknüpfungsgegenständen im Internationalen Gesellschaftsrecht am Beispiel des Gläubigerschutzes
Ralf Knaier: Rechtssicherheit durch unionsrechtliche Rechtsanwendungsbefehle. Der grenzüberschreitende Formwechsel als neuer Stein im Baukasten des kodifizierten EU-Gesellschaftsrechts
Lukas Rademacher: Die Abwehr anstößigen Familien- und Erbrechts: Zwischen Toleranz und Geschlechtergleichstellung
Florian Heindler: Der kollisionsrechtliche Schutz digitaler Inhalte aus urheberrechtlicher Sicht
Denise Wiedemann: Stilikonen, Travel Addicts und Food Junkies – Das Ausrichtungskriterium (Art. 17 Brüssel Ia-VO/Art. 6 Rom I-VO) im Lichte des Influencer-Werbechaos auf Instagram & Co.
, , , , , , , , (

eds.

)
, IPR zwischen Tradition und Innovation, Mohr Siebeck, Tübingen 2019, VIII + 183 pp.
The third meeting of the Young Scholars group is scheduled for 18-19 March 2021 at the Max Planck Institute for Comparative and International Private Law in Hamburg. The conference's theme is: "PIL for a Better World: Vision – Reality – False Path?" Further Information (German page)