Ralf Michaels appointed new Director at the Max Planck Institute for Comparative and International Private Law
Prof. Dr. Ralf Michaels has been appointed a new Director of the Max Planck Institute for Comparative and International Private Law as the successor to Prof. Dr. Dr. h.c. mult. Jürgen Basedow. To accept this position, he is returning to Germany from the United States, where he has served as Professor at Duke University School of Law since 2002. Michaels assumed the role of Director on a part-time basis as of 1 January 2019 and will take on his duties full-time in summer 2019.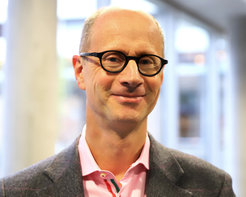 The position marks a return to the Institute for Michaels, who worked as a Research Fellow there from 2001 to 2002 before leaving for Duke University. Michaels' scholarship focuses on comparative law and international private law as well as legal theory. His recent work has particularly engaged with issues of non-state law, globalisation, comparative law methods, and comparative conflict of laws.
As Director of the Max Planck Institute, Michaels hopes to deal in a systematic and comprehensive way with relationships among legal systems, a matter that has gained even greater importance in the course of globalisation. Conflict of laws, which has traditionally been limited to conflicts between private law statutes, is also to be expanded to encompass regulatory law (such as antitrust law), non-state law (such as Islamic law) and international law. "At the same time, it will be important to provide a legal theory foundation for conflict of laws", Michaels says. "To this end, I would like to develop sophisticated inter-system legal theory that supplements traditional thinking within a legal system with thinking between legal systems." Ultimately, he also intends for forms of education that can make such thinking accessible to laypeople to be tested out.
The decolonisation of comparative law is a second research area where Michaels wants to place a new focus. "I'd like to hold up alternative models against a traditional legal understanding that regards Western-influenced state law as the norm and marginalises alternative normative systems", Michaels says. "It should be possible to conceptualise global law from the periphery as well. In doing so, I want to attain a more comprehensive understanding of global law and thus also of the globalised world."
Michaels studied law in Passau and Cambridge. During his time at Duke University, he has been a visiting professor at the Université Paris II Panthéon-Assas, Princeton University, the University of Pennsylvania, the University of Toronto, Tel Aviv University, and the London School of Economics. He has also held senior research fellowships at Harvard und Princeton, as well as at the American Academy in Berlin. In 2015, Michaels gave a special course on international private law at The Hague Academy for International Law on the topic of non-state law in international private law.
Ralf Michaels is married and has three daughters.