Patrick C. Leyens appointed Professor at the University of Graz
Prof. Dr. Patrick C. Leyens, LL.M., has been appointed Professor of Law and Business Research by the University of Graz. His posting at the Institute for Corporate Law and International Business Law at the Faculty of Law will commence in the winter semester 2019.
Patrick Leyens was engaged at the Max Planck Institute for Private Law from 2001, initially as a research assistant and later as research fellow working particularly in the area of US law. From 2007 he was junior professor for civil law and economic analysis of the law at the University of Hamburg. Since 2014 he has served as honorary professor at the Rotterdam Institute of Law & Economics, located at the Erasmus University Rotterdam. Additionally, from 2015 he has filled posts as acting professor at the University of Münster, the Humboldt-Universität zu Berlin and the University of Hamburg.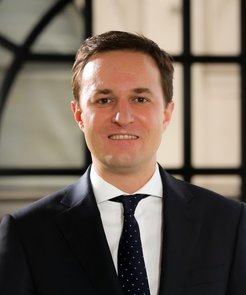 Prof. Leyens' research focuses on civil law; German and European commercial, business, corporate and capital markets law; comparative law; and the economic analysis of the law. His 2006 doctoral dissertation, "Information des Aufsichtsrats Ökonomisch-funktionale Analyse und Rechtsvergleich zum englischen Board" [The Information of the Supervisory Board. An Economic-Functional Analysis and a Comparison with the English Board.], was authored at the Institute under the supervision of Prof. Dr. Dr. Dr. h.c. mult. Klaus J. Hopt and received three awards. His post-doctoral dissertation, "Informationsintermediäre des Kapitalmarkts: Private Marktzugangskontrolle durch Abschlussprüfung, Bonitätsrating und Finanzanalyse" [Information Intermediaries of the Capital Market: Private Gatekeeping through Statutory Audits, Credit Ratings and Financial Analysis] was published in 2017 and has been honoured on four separate occasions.
A summary (in German) of his post-doctoral dissertation can be found in the Institute's 2016 Activity Report (p. 41) as well in in the Archiv für die civilistische Praxis 216 (2016), 361.