Prof. Dr. Dr. h.c. mult. Reinhard Zimmermann
Director at the Institute (2002-2022)

Main Fields of Research
Law of obligations and law of succession in historical and comparative perspective; relationship between the English common law and continental civil law; mixed legal systems (in particular Scotland and South Africa); harmonization of European private law
Vita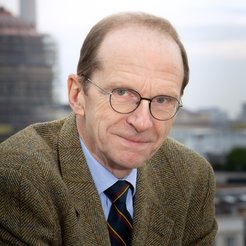 Reinhard Zimmermann was a Director of the Institute from 2002 to 2022. Additionally, he teaches as Affiliate Professor at Bucerius Law School, Hamburg.
After completing his legal studies at the University of Hamburg (State Examinations 1976/1979, doctorate conferred 1978), Reinhard Zimmermann was appointed in 1981 as the W.P. Schreiner Professor of Roman and Comparative Law at the University of Cape Town; from 1986 he additionally served as the Dean of the Faculty of Law. In 1988 he relocated and assumed the Chair of Private Law, Roman Law and Comparative Legal History at the University of Regensburg, where he was Dean of the Faculty of Law from 1994 to 1996.
From 2001 Reinhard Zimmermann served as a member of the board of the German Association of Professors of Private Law (Zivilrechtslehrervereinigung); from 2011 to 2015 he was Chairman of that Association. From 2014 to 2022, he served as Chairman of the Association of Comparative Law (Gesellschaft für Rechtsvergleichung). He is a Founding Member of the Senate of the European Law Institute and since 2017 its Speaker. In 2006 he was elected Chairman of the Human Sciences Section of the Max Planck Society; between 2006 and 2010 he was Senator ex officio and since 2011 he is an Elected Senator of the Max Planck Society.
Reinhard Zimmermann has been President of the German National Academic Foundation (Studienstiftung des deutschen Volkes) since 2011.
He has been a Guest Professor at the Universities of Chicago (Max Rheinstein Visiting Professor), New Orleans, Edinburgh, Stellenbosch, Berkeley, Yale, Cornell, Auckland, Santiago de Chile, Cambridge (A.L. Goodhart Professor and Fellow at St. John's College), and Oxford (Visiting Fellow, All Souls College).
In 1996 Reinhard Zimmermann was awarded the Leibniz Prize of the German Research Association (Deutsche Forschungsgemeinschaft).
He has been conferred honorary doctorates by the Universities of Chicago, Aberdeen, Maastricht, Lund, Cape Town, Edinburgh, Lleida, Stellenbosch, McGill and Lublin. He is Corresponding Fellow of the British Academy and of the Royal Society of Edinburgh as well as Ordinary or Corresponding Member of the Bavarian Academy of Arts and Sciences, the Academy of Arts and Sciences of Göttingen, the Royal Netherlands Academy of Arts and Sciences, the Accademia delle Scienze di Torino, the Austrian Academy of Arts and Sciences and the Academia Europaea.