At the #FUTUREOFLAW BarCamp, Topics for Tomorrow's Legal Research
Date:

Nov 2, 2023

Time:

01:00 PM - 06:00 PM (Local Time Germany)

Location:

Max Planck Institute for Comparative and International Private Law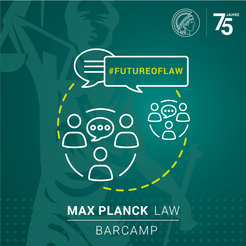 The inaugural #FUTUREOFLAW BarCamp was held at the Institute on 2 November 2023. About seventy participants spent the afternoon in open discussions, exchanging knowledge, standpoints, and ideas about topics for a jurisprudence of the future. Students and doctoral candidates from Germany and abroad attended, together with researchers from the various law-related Max Planck institutes.
The Institute in Hamburg had announced the event jointly with the Max Planck Law network and the Max Planck Society, which had given the go-ahead for an event of this format to take place as part of its seventy-fifth anniversary campaign.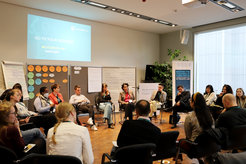 A BarCamp is unlike a traditional conference in that it revolves around a spontaneous and emergent style of sharing. Participants arrive at the gates without a fixed agenda. After an opening round of introductions, each and everyone is called on to suggest their own topic and to advocate for a special session to be devoted to it. The topics that resonate the most are the ones that get put on the agenda.
A legal academic conference in this format was a first, and the tone ended up being set by some of the major social and political debates and their importance for legal scholarship. Legally provocative lines of questioning were developed based on topics of globalization, climate change, reproductive medicine, digitalization, gender issues, and cultural diversity. What should the law be as to the parenthood of a child conceived with the help of in vitro fertilization? Does the state need to be regulating the use of AI-assisted tech in the everyday practice of law? What legal action is most suitable in responding to the climate crisis? How do you craft an international human rights convention so that it respects people's gender? These were only some of the questions to which each of the ten individual sessions was devoted. Some sessions ran concurrently. Some drew crowds of around twenty-five participants. Most discussion was in English because the attendees spoke so many different first languages.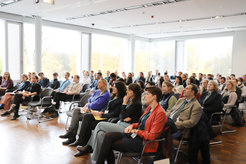 If the feedback session held at the end is any guide, both the attendees as well as the organizers reacted positively to the format. Many of the less experienced participants expressed enthusiasm, calling the discussion sessions "safe spaces" in which there was room to appreciate each person's contribution. Annika Hampel, of Max Planck Law, who is responsible for recruitment and career development, said, "These meetings and encounters allowed us to give up-and-coming scholars from outside our organization insight into the research taking place at the institutes in our network." Nadjma Yassari, who heads one of the host institute's research groups, enjoyed the change of perspective that the BarCamp brought. "As a professor", she said, "my role is usually that of the broadcaster. Today I could be a receiver, letting other people's thoughts and ideas simply have their effect on me."
---

Images: © Max Planck Institute for Comparative and International Private Law / Johanna Detering