Reinhard Zimmermann awarded the Antonio Feltrinelli Prize
Reinhard Zimmermann, Director Emeritus at the Max Planck Institute for Comparative and International Private Law has been awarded the Antonio Feltrinelli Prize. The prize is considered Italy's most important tribute for outstanding achievement in the areas of scholarship and culture and is bestowed annually by the Italian National Academy (the Accademia Nazionale dei Lincei) to Italian and foreign scholars and artists.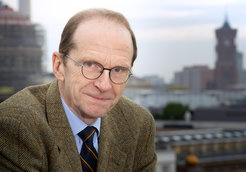 The Antonio Feltrinelli Prize, endowed with 100,000 Euros, has been awarded to Reinhard Zimmermann for his pioneering contribution to the Europeanization of legal studies. The historical-comparative method he employs rests on the premise that in many cases legal phenomena can be properly understood only through an interweaving of historical and comparative perspectives. In this way, the significance of national particularities found in modern private law systems is relativized, and it becomes clear that they are part of a common European tradition reaching back to ancient Roman law. Zimmermann first implemented this approach in his book "The Law of Obligations: Roman Foundations of the Civilian Tradition" (1990/1996), which soon became a classic, and then developed and refined it further in a multitude of books and essays. He thus simultaneously laid intellectual foundations for the development of model rules comprising a uniform European contract law – a development in which he has played a significant role and which has been analyzed in "Commentaries on European Contract Laws" (2018, edited together with his academic pupil Nils Jansen). More recently, Zimmermann has increasingly turned his attention to the systematic study of succession law in both Europe as well as in European-influenced jurisdictions, thus making his approach fruitful for an area of law that has until now been academically neglected notwithstanding its immense practical importance. Other focal points of Zimmermann's work include research on the links between continental European civil law and English common law and also on "mixed legal systems".
The Antonio Feltrinelli Prize derives from a testamentary foundation along the lines of the Nobel Foundation and has been awarded since 1950 in the fields of the humanities and natural sciences as well as literature, the arts, and medicine. Founded in 1603, the Accademia Nazionale dei Lincei is Italy's most prestigious academic society, with Galileo Galilei numbering amongst its most famous members. One of the first recipients of the Antonio Feltrinelli Prize was Thomas Mann in 1952. In the field of the humanities, four lawyers have been honoured thus far; these include Ernst Rabel (1955), the founder of what is now the Max Planck Institute for Comparative and International Private Law, constitutional law scholar and legal theorist Hans Kelsen (1960), and legal historian Franz Wieacker (1985). The honourees of 2020 included Mario Draghi. In 2023, a total of five international prizes of 100,000 Euros each are being awarded in the fields of law, physics, archaeology, art, and medicine. Four of them will go to German recipients. In addition to Reinhard Zimmermann (law), Anselm Kiefer (art), Wolf Dieter Heilmeyer (archaeology) and – jointly – Uğur Şahin and Özlem Türeci (medicine) have been singled out for recognition. The prize will be conferred by the Italian president at a ceremony to be held in Rome on 23 June 2023.
Prof. Dr. Dr. h.c. mult. Reinhard Zimmermann, born in 1952, studied law at the University of Hamburg. In 1981 he was appointed as the W.P. Schreiner Professor of Roman Law and Comparative Law at the University of Cape Town. From 1988 to 2002 he held the Chair for Civil Law, Roman Law and Comparative Legal History at the University of Regensburg. He has been guest professor at numerous universities, including Oxford, Cambridge, Yale, Chicago, Auckland, and Santiago de Chile. His work has found global resonance, as testified to by the eleven honorary doctorates he has received to date from notable universities such as Edinburgh, Lund, Maastricht, McGill and Chicago. In 1996 Zimmermann was awarded the Gottfried Wilhelm Leibniz Prize as bestowed by the German Research Foundation. In 2002 he was appointed Director at the Max Planck Institute for Comparative and International Private Law and has since October 2022 been Director Emeritus. He has been the President of the German National Academic Foundation since 2011.
---

Photograph: © David Ausserhofer