Causa contractus
In the European legal tradition, the notion of causa stands as a common foundation of contract law, with the term causa contractus being used in relation to both the contract's underlying purpose as well as the basis for its enforcement. It was long the case that the notion met with criticism and rejection. Drawing upon legal history and comparative analysis, a newly published edited volume undertakes to revive the ius commune discourse.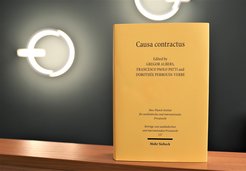 The work aims to promote a European understanding and contains contributions written in German, French, Italian, and English. The respective contents of these essays are summarized in an English-language introduction preceding each of the book's sections. The volume has been edited by Gregor Albers (University of Bonn) together with Francesco Paolo Patti (Luigi Bocconi University of Economics) and Dorothée Perrouin-Verbe (University of Cergy-Pontoise), both former research fellows at the Max Planck Institute for Comparative and International Private Law. Further authors include Samuel Fulli-Lemaire (University of Strasbourg), a former Institute research fellow, as well as several other former Institute staff members and guests. The volume is the result of three conferences held at Villa Vigoni between 2016 and 2018; the research sessions were trilaterally funded by Villa Vigoni, the Maison des Sciences des Hommes, and the German Research Foundation.



, , (

eds.

)
, Causa contractus – Auf der Suche nach den Bedingungen der Wirksamkeit des vertraglichen Willens / Alla ricerca delle condizioni di efficacia della volontà contrattuale / À la recherche des conditions de l'efficacité de la volonté contractuelle (Beiträge zum ausländischen und internationalen Privatrecht, 137), Mohr Siebeck, Tübingen 2022, XX + 928 pp.
---

Image: © Max Planck Institute for Comparative and International Private Law