Accolade for Biset Sena Güneş
On 1 July 2022, the Alumni Association of the Law Faculty at the University of Regensburg honoured Biset Sena Güneş, research fellow and head of the Centre of Expertise on Turkey at the Max Planck Institute for Comparative and International Private Law, with the Juratisbona-Prize recognizing exceptional doctoral dissertations.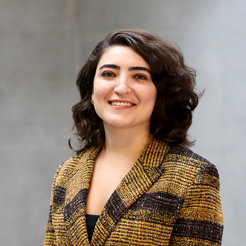 In her dissertation "Private International Law on Successions upon Death: A Comparison between European and Turkish Private International Law", Dr. Biset Sena Güneş, LL.M. (London), comparatively examines the international succession law of the European Union and Turkey. Prior to being awarded her doctorate, the international legal scholar was engaged at Yildirim Beyazit University in Ankara and, additionally, was qualified as a lawyer, notary, and mediator in Turkey. Since 2021 she has led the Institute's Centre of Expertise on Turkey, where she has among other efforts initiated an international lecture series on Turkish law.
---

Image: © Max Planck Institute for Comparative and International Private Law / Johanna Detering