Itinera hereditatis
How does the law of succession bring about its intended effects? How do the assets of the deceased pass to the chosen recipients? In his habilitation monograph, senior research fellow Jan Peter Schmidt of the Max Planck Institute for Comparative and International Private Law analyses the mechanisms of estate administration using an approach that is both historical and comparative.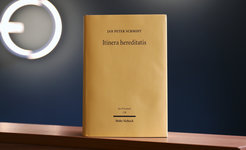 The law of succession not only determines who is entitled to which of the deceased's assets, it also provides a process for carrying out the prescribed asset distribution. On the basis of his own taxonomy of estate administration, Schmidt places the German regime in a broad historical and comparative legal context, thereby revealing the structural elements hiding behind the national rules and their particular concepts. He shows why the manifold competing interests can only be reconciled to a certain extent and provides a new perspective on the issue of the heirs' liability for the debts of the estate. He also explores the margin for reforming German law in this area, which has long been regarded as unsatisfactory. At the same time, the monograph intends to contribute to the gradually developing pan-European discourse on the law of succession.
Priv.-Doz. Dr. Jan Peter Schmidt studied law in Constance and at Complutense University of Madrid. He has been a research fellow at the Institute since 2004, serving as head of the Latin America section from 2004 to 2011, and since 2020 as director of the Centre for the Application of Foreign Law. In 2020, he habilitated through the University of Regensburg and received his venia legendi in private law, comparative law, private international law, legal history, and European private law.
, Itinera hereditatis – Strukturen der Nachlassabwicklung in historisch-vergleichender Perspektive (Jus Privatum, 258), Universität Regensburg 2020, Tübingen 2022, Habilitation Thesis, XXVII + 740 pp.