Shareholders' Agreements
On voting agreements in publicly traded companies: practical relevance, law-and-economics considerations, and doctrinal analysis.
Johannes Liefke, a former research assistant at the Max Planck Institute for Comparative and International Private Law, wrote his dissertation on shareholders' agreements in publically traded companies. Analyzing specific contractual arrangements and their implications, he develops a typology for conceptualizing the myriad structures encountered in practice.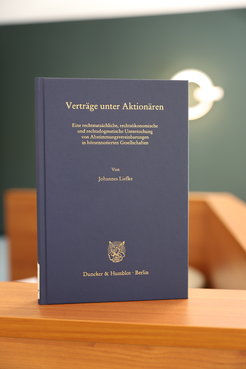 Much the same as members of parliament caucus to further their aims more effectively, corporate shareholders enter into private contracts to pool their voting power. Such voting agreements are a familiar phenomenon around the globe and have been for a long time. While in Germany they have mostly been associated with medium-sized firms, Johannes Liefke focuses on their role in publically traded companies. Shedding light on specific examples and contractual provisions, he offers a detailed look at the various effects of such contracts. Based on this survey of their practical impact, he develops a typology of voting agreements and subjects them to a categorical analysis of their opportunities and pitfalls for corporate governance as well as their significance for company and securities law.
The dissertation was researched and written at LMU Munich, the Max Planck Institute for Tax Law and Public Finance, and the Max Planck Institute for Comparative and International Private Law. For his work, which he submitted in 2019 in satisfaction of the doctoral program at Humboldt University of Berlin, Johannes Liefke was awarded the Karlheinz Quack Prize by the Humboldt University's law faculty as well as a prize by the Esche Schümann Commichau Stiftung.
, Verträge unter Aktionären – Eine rechtstatsächliche, rechtsökonomische und rechtsdogmatische Untersuchung von Abstimmungsvereinbarungen in börsennotierten Gesellschaften (Abhandlungen zum Deutschen und Europäischen Gesellschafts- und Kapitalmarktrecht, 172), Humboldt-Universität zu Berlin 2019, Berlin 2021, PhD Thesis, 387 pp.