Honorary Doctorate for Reinhard Zimmermann
On 22 June 2021 the Law Faculty of the John Paul II Catholic University of Lublin (KUL) awarded Prof. Dr. Dr. h.c. mult. Reinhard Zimmermann, Director at the Max Planck Institute for Comparative and International Private Law, the degree of Doctor Honoris Causa. The award ceremony was broadcast by livestream.
The KUL Senate characterized the honour as recognition for Zimmermann's extraordinary accomplishments in the areas of research and teaching as well as for his unceasing efforts to identify the foundations of the European legal tradition. In so doing it paid tribute to the legal scholar for, in particular, his work as the author and editor of ground-breaking publications on comparative private law and European private law unification. Numbering among these works are the Handwörterbuch des Europäischen Privatrechts, The Oxford Handbook of Comparative Law, The Max Planck Encyclopedia of European Private Law and, most recently, the Commentaries on European Contract Laws.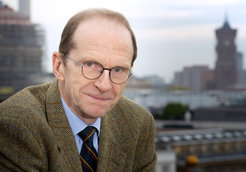 Reinhard Zimmermann studied law at the University of Hamburg, where he earned his doctoral degree in 1978. In 1981 he became W.P. Schreiner Professor of Roman and Comparative Law at the University of Cape Town. From 1988 to 2018 he held the Chair of Private Law, Roman Law and Comparative Legal History at the University of Regensburg. In 1996 he was awarded the Gottfried Wilhelm Leibniz Prize from the German Research Association (Deutsche Forschungsgemeinschaft). In 2002 he was appointed as Director at the Max Planck Institute for Comparative and International Private Law. He has since 2011 been the President of the German National Academic Foundation (Studienstiftung des deutschen Volkes). His guest professorships have included posts at Oxford, Cambridge, Yale, Berkeley, Chicago, Auckland and Edinburgh. Reinhard Zimmermann has previously been awarded honorary doctorates from the Universities of Chicago, Aberdeen, Maastricht, Lund, Cape Town, Stellenbosch, Edinburgh and Lleida as well as from McGill University in Montréal.