Katharina Pistor commences virtual fellowship at the Institute
Katharina Pistor, renowned law professor at Columbia Law School, began on 28 April a four-week fellowship jointly sponsored by the Max Planck Institute for Comparative and International Private Law and the Hamburg Institute for Social Research (HIS). As part of her fellowship, Professor Pistor will speak at a variety of events, all of which are being held virtually on account of the Covid-19 pandemic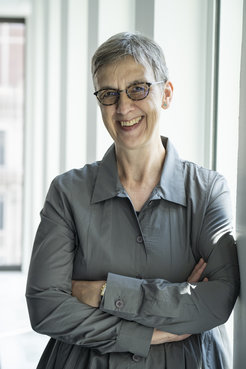 Katharina Pistor numbers among the leading researchers and authors in the fields of corporate governance, property law, comparative law and legal institutions, and financial market regulation. Prior to accepting a position as professor at Columbia Law School, she was an academic staff member at Harvard Law School, the Harvard University Kennedy School of Government and the Max Planck Institute for Comparative and International Private Law. She earned her doctoral degree under the supervision of Klaus Hopt in Munich, her dissertation exploring property law reform in Russia and the Czech Republic following the dissolution of the Soviet Union. During her time at the Max Planck Institute, to which she is now (digitally) returning, she worked primarily on legal reform in Russia and Eastern Europe. In 2012 she was awarded the Max Planck Research Prize for her work on the regulation of international financial markets.
In her most recent book "The Code of Capital" (which has now also been released in German – Der Code des Kapitals: Wie das Recht Reichtum und Ungleichheit schafft, Suhrkamp 2020) Pistor examines capitalism from a legal perspective. Pistor demonstrates how financial assets are transformed into capital by private law; in addition, she criticizes how corporations enjoy legal privileges that have historically evolved and how private law – as a purportedly neutral framework for economic activity – ultimately becomes a source of worsening inequality. Katharina Pistor is presently working on several projects that build on her book "The Code of Capital".
During her research stay, Katharina Pistor will speak in the context of various formats. All the events will take place virtually in cooperation with the Hamburg Institute for Social Research. In addition to these events, Pistor will moderate an inter-disciplinary reading group featuring researchers from both institutions.
Events with Katharina Pistor